Tex-Mex joints all have a variety of meaty fillings like this one on their menus packed with big, bright Tex-Mex flavors ready to roll into any type of tortilla. Burritos, enchiladas, quesadillas, crispy tacos, soft tacos, tostadas, rotis—what will you roll?

Yield: MAKES 4 cups (1 L) or so of filling, enough for 8 to 10 burritos or enchiladas or 18 tacos, easily doubled
Ingredients
8 bone-in, skinless chicken thighs
1⁄2 teaspoon (2 mL) of salt
Lots of freshly ground pepper
A few splashes of vegetable oil
1 or 2 onions, finely chopped
4 or 5 garlic cloves, minced
1 tablespoon (15 mL) of chili powder
1 tablespoon (15 mL) of ground cumin
1 tablespoon (15 mL) of dried oregano
A 28-ounce (796 mL) can of diced tomatoes
2 cups (500 mL) of frozen corn
A 14-ounce (398 mL) can of black beans, drained and well rinsed
1 or 2 chipotle chilies in adobo sauce, mashed with a fork
Procedure
Preheat your oven to 350°F (180°C). Turn on your convection fan if you have one.
Match a Dutch oven or heavy soup pot with a tight-fitting lid and set it over medium-high heat. Generously season the chicken with salt and pepper. Splash a thin pool of vegetable oil into the pan. Using tongs, carefully add the chicken to the sizzling pan and sear, turning occasionally, until golden on all sides, 10 minutes or so. Transfer the chicken to a plate.
Add the onions, garlic, chili powder, cumin and oregano to the pan and sauté briefly. Stir in the tomatoes, corn, beans and chipotle chilies. Briefly bring to a furious boil, then reduce the heat to a slow, steady simmer. Nestle in the seared chicken.
Cover, transfer to the oven and bake until the chicken is so tender that it falls o the bones, an hour and 15 minutes or so. Gently ease the bones and cartilage out of each thigh and stir the meat back into the sauce.
STORAGE TIP
Refrigerate: Tightly seal the finished filling and refrigerate within 30 minutes of cooking. Store for up to 3 days.
Freeze: Portion the finished filling, tightly seal and freeze for up to 30 days. Reheat straight from the freezer or thaw in the refrigerator for 1 or 2 days before reheating. Tightly seal leftovers and store in the refrigerator for just a few days.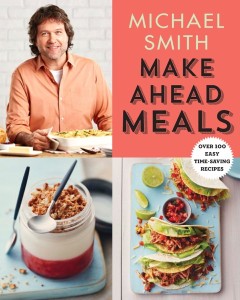 From Make Ahead Meals Copyright © Michael Smith 2015. Reprinted by permission of Penguin Canada, a division of Penguin Random House Canada Limited.