From Make Ahead Meals Copyright © Chef Michael Smith 2015. Reprinted by permission of Penguin Canada, a division of Penguin Random House Canada Limited. Photography credit: Ryan Szulc.
Pesto is an intensely flavored condiment traditionally made from fresh green herbs, nuts, cheese and olive oil. It's an incredibly easy way to add a big, bright boost of fresh flavor to nearly any dish. This version is less expensive than the classic Genovese blend of basil, pine nuts and Parmigiano-Reggiano, but with spicy arugula, peperoncini and almonds it's just as flavorful. You can just as easily incorporate traditional fresh basil into the works if you like. Either way, you'll discover that a little goes a long way.
Yield: Makes 2 cups (500 mL), enough for many meals, easily doubled.
Ingredients
2 garlic cloves, peeled
2 pickled peperoncini peppers, stems removed (or 1/2 teaspoon/2 mL of your favorite hot sauce)
1 cup (250 mL) of blanched almonds, toasted
1/2 cup (125 mL) or so of extra virgin olive oil
1 cup (250 mL) of freshly grated Parmigiano-Reggiano cheese
A 5-ounce (142 g) container of baby arugula
1/2 teaspoon (2 mL) of salt
Lots of freshly ground pepper
Procedure
Pile the garlic, peperoncini, almonds and half of the olive oil into your food processor. Pulse until everything is coarsely chopped and well mixed. Add the remaining oil and the Parmesan, arugula, salt and pepper. Process, scraping down the sides occasionally, until thoroughly blended into a smooth paste.
Storage Tip
Refrigerate: Tightly seal the pesto and refrigerate for up to a week.
Freeze: Portion the pesto, tightly seal and freeze for up to 30 days. Use straight from the freezer or thaw in the refrigerator for a day or so before use.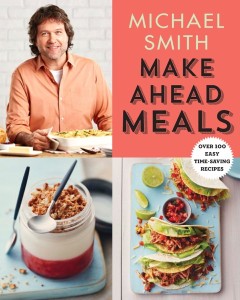 From Make Ahead Meals Copyright © Michael Smith 2015. Reprinted by permission of Penguin Canada, a division of Penguin Random House Canada Limited