There are many ways to bake a memorable chocolate chip cookie, but this version emphasizes chewiness. If you prefer your cookies with lots of chewy texture without much crispy brittleness, then you'll love these deeply flavoured and tantalizingly textured treats.
Yield: Makes about 18 cookies (depending on size)
Ingredients
1/2 cup (125 mL) of butter, at room temperature
2 cups (500 mL) of brown sugar
1 egg
1 teaspoon (5 mL) of vanilla
1 1/2 cups (375 mL) of all-purpose flour
1 teaspoon (5 mL) of baking powder
1/4 teaspoon (1 mL) of salt
2 cups (500 mL) of chocolate chips
Procedure
Preheat your oven to 375ºF (190ºC). Lightly grease a cookie sheet.
With an electric mixer, beat the butter with the sugar until smooth and creamy. Whisk in the egg and vanilla until everything is combined well.
Whisk together the flour, baking powder, and salt, evenly distributing the finer powders among the coarser flour. Scrape down the butter bowl and gradually add the flour mix, beating just until combined. Stir in the chocolate chips with a spoon.
Scoop out a ball of dough with a small spoon, roll it briefly in your hand into an even ball, then place it on the cookie sheet. Flatten the ball slightly. Repeat, leaving 3 or 4 inches (8 to 10 cm) in between the balls for the cookies to expand as they bake. Bake for exactly 12 minutes. Cool for a few minutes on the cookie sheet, then remove and cool further on a rack or a folded newspaper. Try at least one while it's still warm and oozing, but for the best texture wait until the batch cools. Serve and share!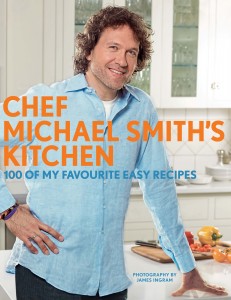 From Chef Michael Smith's Kitchen  Copyright © Michael Smith 2011. Reprinted by permission of Penguin Canada, a division of Penguin Random House Canada Limited.
Variation
Kitchen Tip
This cookie recipe promotes chewiness in two ways. It calls for a bit more sugar than normal – sugar absorbs moisture and helps the cookies stay soft and pliant. The cookies are also baked quickly and are removed from the oven before the sugar has a chance to fully caramelize. The more caramelized the sugar, the crisper the cookie becomes as it cools.