From Fast Flavours, 2012
This treat is so rich and deeply delicious that no one will know you took a shortcut! The secret is the custard-like texture of silken tofu.
Yield: Serves 4 people
Ingredients
8 ounces (225 g) of dark chocolate
1 pkg (10 ounces/300 g) of silken tofu
1/2 cup (125 mL) of sugar
1 teaspoon (5 mL) of vanilla
Procedure
Break the chocolate into small chunks and put them in a bowl set over (but not in) a small pot of barely simmering water. Stir gently until the chocolate is melted and smooth. Remove the bowl from the steam bath.
Toss the tofu into your food processor. Add the sugar, vanilla, and every last drop of the chocolate. Purée the works until smooth and delicious. Serve and share immediately or, if you like, spoon into individual serving dishes and chill until firmer, and hour or so.
© Chef Michael Smith, Fast Flavours, 2012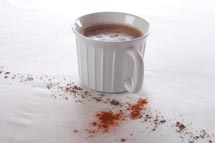 8 years ago
Cocoa powder gives chocolate its rich flavour and makes this steaming mug of hot cocoa my favourite winter treat. A touch of cayenne pepper balances the temperature heat of the brew but doesn't make it too spicy. It's a surprising twist that adds just the right exotic edge.
View Recipe