From Fast Flavours, 2012
This treat is so rich and deeply delicious that no one will know you took a shortcut! The secret is the custard-like texture of silken tofu.
Yield: Serves 4 people
Ingredients
8 ounces (225 g) of dark chocolate
1 pkg (10 ounces/300 g) of silken tofu
1/2 cup (125 mL) of sugar
1 teaspoon (5 mL) of vanilla
Procedure
Break the chocolate into small chunks and put them in a bowl set over (but not in) a small pot of barely simmering water. Stir gently until the chocolate is melted and smooth. Remove the bowl from the steam bath.
Toss the tofu into your food processor. Add the sugar, vanilla, and every last drop of the chocolate. Purée the works until smooth and delicious. Serve and share immediately or, if you like, spoon into individual serving dishes and chill until firmer, and hour or so.
© Chef Michael Smith, Fast Flavours, 2012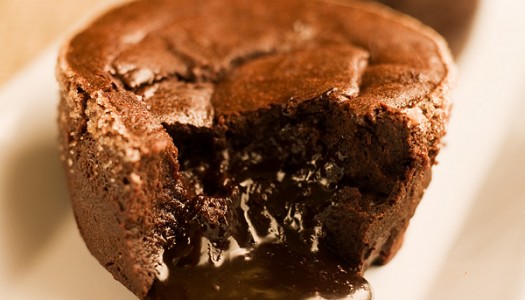 49 years ago
An individual chocolate cake with a molten runny centre is the ultimate dinner party chocolate treat. Slightly underbaking the batter makes each cake come out with its own special sauce hidden inside.
View Recipe
3 years ago
You can easily make your own homemade chocolate treats. It's deliciously easy to stir a variety of crispy, crunchy bits into a warm pool of melted chocolate, cool and harden the works, then start snapping off homemade candy!
View Recipe