This addictive and highly flavoured flat bread really packs a punch with onion, garlic, rosemary and Parmesan cheese. Enjoy alongside a salad for lunch or serve it instead of garlic bread on your next pasta night.
Yield: Makes one large focaccia
Ingredients
3 cups (750 mL) of all purpose or bread flour
1 cup (250 mL) of whole wheat flour
1/2 cup (125 mL) of multigrain cereal mix
1 teaspoon (5 mL) of salt
1/2 heaping teaspoon (3 mL) of active dry yeast
8 oz (225 g) of finely grated Parmesan cheese
1/4 cup (125 mL) of extra virgin olive oil
1 large onion, chopped
4 cloves of garlic, peeled and minced
A few springs rosemary, chopped
2 1/4 cups (560 mL) of warm water
Olive oil for drizzling
Rock or flaky salt for sprinkling
Lots of freshly ground pepper
Procedure
In a large bowl, whisk the flours, cereal mix, salt and yeast together, evenly distributing the salt and yeast throughout the flour. Mix in the Parmesan cheese and set aside.
Splash the olive oil in a large sauté pan. Toss in the onions and sauté until golden brown and softened, about 5 minutes. Add the garlic and rosemary and heat just long enough to release the fragrance, another minute or so. Remove from the heat and pour in the water. Pour this mixture into the dry ingredients and stir with the handle of a wooden spoon until a moist dough forms. Continue stirring until all the flour is incorporated into the dough, about 1 or 2 minutes in total.
Cover the bowl with a tight-fitting lid or plastic wrap and let it rest in a warm place for 12 hours or overnight. The dough will double in size and bubble, and long elastic gluten strands will form without laborious kneading.
Preheat your oven to 400 °F (200 °C). Grease a rimmed cookie sheet with olive oil.
Lightly flour your work surface and the surface of your dough. Lightly oil your hands and gather the dough from the outside edges of the bowl and fold it in towards the center to make a ball. Now roughly spread it onto the prepared cookie sheet using your fingers. Drizzle it with lots of olive oil, and then dimple it deeply using your fingertips, creating some nice wells for your toppings. Sprinkle generously with coarse salt and finish it off with lots of freshly ground pepper. Bake until golden brown, about 35 to 40 minutes. Slice it up, share and enjoy while it's still warm.
© Chef Michael Smith
Variation
Freestyle Twist: It's easy to add your personal twist to this focaccia. Try experimenting with a different choice of herbs and cheese. Replace the multigrain cereal with cornmeal, oats or even potato flakes!
4 years ago
The sweetness of summer berries is incredibly delicious stuffed into a simple sour cream biscuit. This easy-to-make biscuit dough comes together in a snap because you just need to stir sour cream and milk into the works instead of laboriously cutting butter into the dough. This is an easier method than traditional recipes.
Use whichever ripe berries catch your eye while browsing your local farmer's market, u-pick, or your backyard, or use a mix of a few different kinds. Strawberries, raspberries, blueberries, blackberries, even experiment with berries you've never heard of before, like haskap berries. Different berries have different levels of sweetness, so use your best judgment and adjust the amount of sugar to suit your taste buds.
View Recipe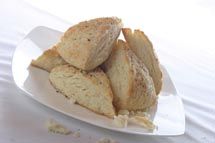 8 years ago
These are my gold-standard biscuits. My secret? Frozen butter! It's an old pastry chef's trick that has served me well. Butter tastes great and when it's frozen it becomes very easy to shred into the dough. After you try these a few times you'll be able to bake them in under twenty minutes and clean up the mess too!
View Recipe