This is a delicious condiment to add to your grilling or snacking repertoire. Like any great salsa it's packed with big, bright, balanced taste that easily complements other ingredients. What a great way to fill Half Your Plate with zesty flavours!
Yield: Makes enough for 6 to 8
Ingredients

4 cups or so of finely chopped watermelon, seeded
1 jalapeno or poblano pepper, finely minced
1 yellow or green bell pepper, finely minced
1 cup of red onion, finely minced

1 bunch of mint or cilantro, finely chopped
2 limes, zested and juiced
2 tablespoons of your best olive oil
1 tablespoon of honey
1 teaspoon of salt
Procedure

To make the salsa simply toss everything together in a bowl until thoroughly combined. Serve and share with your favourite chips or as a side condiment for anything grilled….
Variation

One secret to a great salsa is to take the time to cut all the ingredients as small as you can. This makes it much easier to scoop up all the flavours in one bite. Another salsa secret is the delicious balance of sweet, sour, salty, spicy and savoury flavours. This recipe uses about half a melon. The other half is best enjoyed cut into wedges and slurped outside!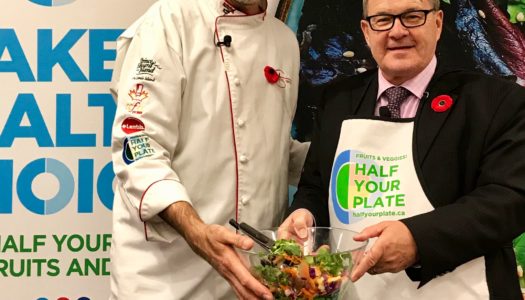 11 months ago
You can fill more than Half Your Plate and create your own salad with this recipe. Chefs know that the art and craft of filling a salad bowl is one of the greatest expressions of the culinary arts. Home cooks love how easy it is to cram the salad bowl with healthy flavours. Everyone enjoys emptying the bowl. You'll love knowing you have plenty of delicious dressing leftover for the next salad and nothing beats impressing yourself in your own kitchen! This one was custom created by Honorable Lawrence MacAulay with Chef Michael Smith's coaching!
View Recipe
3 years ago
This is my favourite way to toss together the amazing flavours of a Niçoise salad and skip the traditional fussy arrangement of the ingredients. My kids aren't big fans of visible anchovies and don't know that they're hidden in the powerfully flavoured dressing loaded with tangy lemon, bright parsley and aromatic basil. They just know they love this salad and I love that it's a whole meal in a bowl!
View Recipe