In the middle of winter, few dishes comforts cold hands and empty stomachs like a big bowl of steaming chili. This vibrant vegetarian version is bursting with bright flavours and stick-to-your-ribs heartiness. It's jam packed with veggies, beans and barley, which fills you up without weighing you down.
Yield: Feeds 6 hungry chili lovers
Ingredients
For the Flavour Base: 
a splash of olive oil
1 onion, chopped
1 head of garlic cloves, chopped
2 carrots, chopped
2 tablespoons (30 mL) of chili powder
2 tablespoons (30 mL) of ground cumin
2 tablespoons (30 mL) of dried oregano
For the Chili:
a 28-ounce (850 mL) can of whole tomatoes
a 5.5-ounce (160 mL) can of tomato paste
3 cups (750 mL) of water
1 cup (250 mL) of barley
a 19-ounce (540 mL) can of kidney, red or black beans, drained and rinsed
1 chipotle pepper in adobo sauce, minced
1 teaspoon (5 mL) of salt
2 cups (500 mL) of frozen corn
2 cups (500 mL) of frozen edamame
fresh cilantro sprigs
Procedure
Splash the oil into your favourite heavy soup pot preheating over medium-high heat. Toss in the onions, garlic and carrots and sauté, stirring frequently, until the aromatic vegetables heat through, brighten and lightly colour, 5 minutes or so. Stir in the chilli powder, cumin, and oregano. Continue cooking and stirring as the spices heat through, lose their staleness and become fragrant, just a minute or two.
Stir in the tomatoes, tomato paste, water and barley, taking a moment to break up the tomatoes with a wooden spoon. Add the beans, chipotle pepper and salt. Bring the works to a boil, then adjust the heat to a bare simmer. Cover then cook until the barley tenderizes, the chilli thickens and all the flavours blend, 25 minutes or so. Stir in the corn and edamame and continue cooking just long enough to heat them through.
Ladle into serving bowls top each serving with fresh cilantro sprigs.
© Chef Michael Smith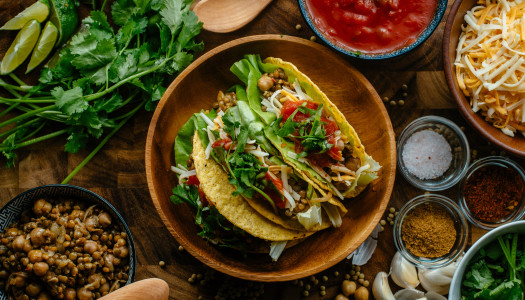 3 years ago
The year 2016 has been declared the International Year of Pulses by the United Nations to celebrate one of the world's most important foods: the edible seeds of the legume family.
Beans, peas, chickpeas, and lentils are packed with fibre, protein, nutrients, and flavour. Their nutritional intensity, inexpensive accessibility, and ease of cooking have made them indispensible staples to cooks all over the globe.
Wherever we live, we all do our best to make healthy choices at home but it's a lot easier when those choices are delicious. These meatless tacos are stuffed with so much sunny southwestern flavour that no one will notice anything missing. What a great way for your family to join families around the world in a global celebration of flavour and nutrition!
View Recipe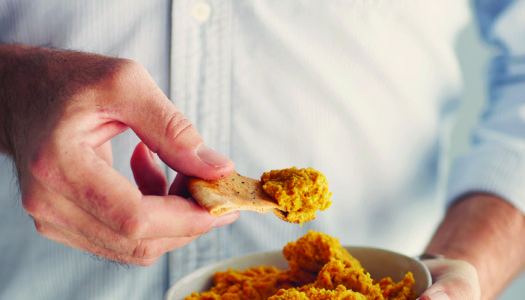 3 years ago
Hummus is perhaps the world's greatest dip. It's unparalleled for addictive avor, smooth texture, nutritional value and the all-important functionality factor. With a batch of hummus ready, you can really release your creative juices. Try it on your favorite crackers, flatbreads or chips. Then top with smoked salmon, various charcuterie, even just plain sprinkled with green onions or giant dill sprigs.
View Recipe