This is one of Gabe's favourite snacks. He loves fruit so we play around in the kitchen and see how many different kinds of citrus fruit, melons, tree fruit, grapes, berries and tropical fruit we can toss into one salad bowl. Our record is 32!
Yield: Makes enough for a crowd, or several days of snacking
Ingredients
orange, skinned and segmented
grapefruit, skinned and segmented
cantaloupe, skinned
watermelon, skinned
honeydew, skinned
apples, diced
peaches, diced
pears, diced
plums, diced
apricots, diced
red grapes
green grapes
black grapes
strawberries
raspberries
blueberries
mangoes, skinned and diced
pineapple, skinned and diced
kiwis, skinned and diced
papaya, skinned and diced
2 limes, zest and juice
a spoonful or two honey
Procedure
Prepare all the fruit you can find, removing any unnecessary skin or seeds. Make sure all the fruit is in bite-sized chunks, and toss together with the lime and honey. You may serve this salad immediately, but, if you refrigerate it for a few hours, it will become even juicier and more delicious.
This will keep in the fridge for 2 to 3 days.
Variation
Next time you're at the supermarket, load your cart with every different fruit you can find. They're all fair game in this salad.
6 years ago
French toast for breakfast immediately makes the day special but it's not just a weekend treat. You can bang out a batch any day of the week and jazz it up with an easy stuffing and a crunchy finish.
View Recipe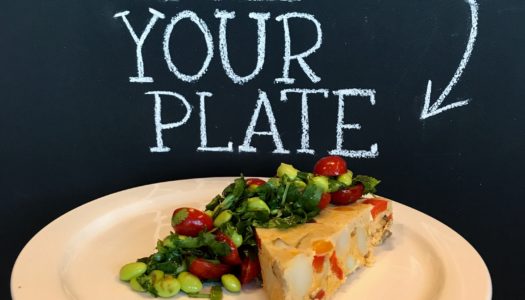 6 months ago
Potatoes are not just tasty, nutritious, inexpensive and easy to find, they're also wildly versatile, especially with eggs in the mix. Cultures and cuisines all over the world have found innovative ways to cook with this dynamic duo. Here they play a starring role in a classic frittata with a tasty Tex-Mex twist. The salsa side salad is bright and spicy, a refreshing condiment of sorts. This recipe will easily fill Half Your Plate – but not for long. It'll be empty in no time!
View Recipe