This is one of Gabe's favourite snacks. He loves fruit so we play around in the kitchen and see how many different kinds of citrus fruit, melons, tree fruit, grapes, berries and tropical fruit we can toss into one salad bowl. Our record is 32!
Yield: Makes enough for a crowd, or several days of snacking
Ingredients
orange, skinned and segmented
grapefruit, skinned and segmented
cantaloupe, skinned
watermelon, skinned
honeydew, skinned
apples, diced
peaches, diced
pears, diced
plums, diced
apricots, diced
red grapes
green grapes
black grapes
strawberries
raspberries
blueberries
mangoes, skinned and diced
pineapple, skinned and diced
kiwis, skinned and diced
papaya, skinned and diced
2 limes, zest and juice
a spoonful or two honey
Procedure
Prepare all the fruit you can find, removing any unnecessary skin or seeds. Make sure all the fruit is in bite-sized chunks, and toss together with the lime and honey. You may serve this salad immediately, but, if you refrigerate it for a few hours, it will become even juicier and more delicious.
This will keep in the fridge for 2 to 3 days.
Variation
Next time you're at the supermarket, load your cart with every different fruit you can find. They're all fair game in this salad.
8 years ago
This favourite flavour is often our first heat, the first cooking of the day for my family. A batch of these pancakes is a great way to spin a strong dose of whole grains into a get-out-of-bed treat and to kick-start a nutritious day.
View Recipe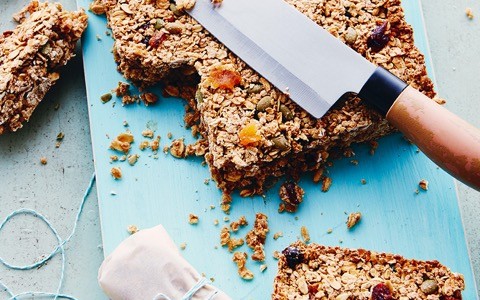 3 years ago
Need a little mid-morning or mid-afternoon boost? Skip the candy aisle and instead stir whole-grain goodness into a batch of these super-simple, super-tasty granola bars. Artfully wrap and tie individual bars for some added flairand lovingly tuck a handwritten note inside.
View Recipe