This ain't your typical tuna salad! A rosy tuna steak is quickly seared in a hot pan and thinly sliced before being put on display over a hearty potato and green bean salad.
Yield: Makes 4 servings
Ingredients
2 pounds (1 kg) of baby red potatoes, cut in half
1 pound (450 g) of green beans, cleaned
1 cup (250 mL) of Kalamata olives
1/2 cup (125 mL) of extra virgin olive oil
1 heaping tablespoon (20 mL) of Dijon mustard
The zest and juice of 2 lemons
A splash of vegetable oil
1  8 ounce (225 g) very fresh tuna steak
Salt and pepper
Procedure
Begin by cooking the potatoes. Bring a large pot of salted water to the boil over medium-high heat. Slip in the potatoes and simmer until tender enough for a fork to pass through easily, 5-10 minutes. Alternatively, steam the potatoes in a stovetop steamer. Remove the potatoes and set aside.
Next, add green beans to the pot or steamer. Cook until bright green and still slightly crisp, 2-3 minutes. Immediately plunge the beans into a bowl of ice water to stop the cooking and preserve its vibrancy.
In a large bowl, whisk together the toss together the potatoes and green beans along with the olives, olive oil, mustard, lemon zest and juice. Season with salt and pepper. Mix gently with a wooden spoon to ensure all the ingredients are evenly distributed and lightly coated with the dressing. Divide the salad base evenly between 4 serving plates.
Heat a splash of vegetable oil in a cast iron or sauté pan over medium-high heat. Rub both sides of tuna steak with salt and pepper. When the pan is hot, sear the tuna for 2 minutes per side, creating a golden brown crust while keeping the middle rare.
Thinly slice the tuna and drape over the potato salad base, fanning the slices to show off its jewel-like interior.
© Chef Michael Smith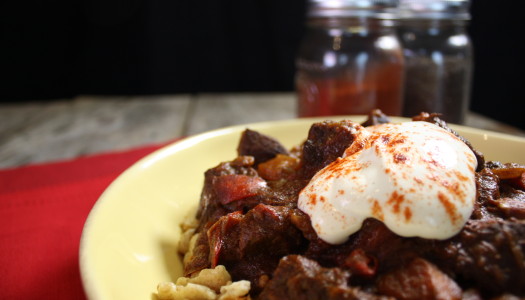 2 years ago
This is one of the great beef stews of the world. It's a uniquely Hungarian dish that's half way between a soup and a stew. While in Hungary, I learned a couple of things. First, that every cook has a different version of this recipe and second, that everyone believes their version is the most authentic. So to me, that means all versions are authentic as long as they contain Hungarian flavours.
This recipe is dedicated to the memory of Ann Szemba, my Hungarian friend who traveled with me to Hungary and taught me this dish.
View Recipe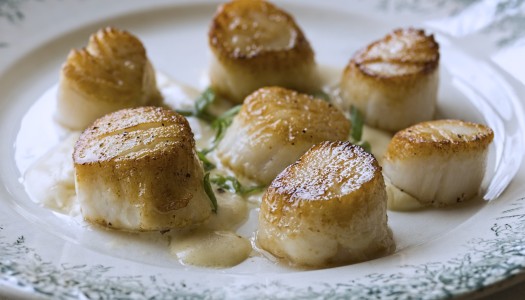 3 years ago
Searing sweet briny scallops to give them a golden brown crispy crust is an essential cooking method for any cook's seafood repertoire. The secret is a hot pan, a high-heat, rapid cooking trick mastered by busy restaurant line cooks. A hot pan not only browns the scallops but allows you to whip up a tasty wine sauce too.
View Recipe