This ain't your typical tuna salad! A rosy tuna steak is quickly seared in a hot pan and thinly sliced before being put on display over a hearty potato and green bean salad.
Yield: Makes 4 servings
Ingredients
2 pounds (1 kg) of baby red potatoes, cut in half
1 pound (450 g) of green beans, cleaned
1 cup (250 mL) of Kalamata olives
1/2 cup (125 mL) of extra virgin olive oil
1 heaping tablespoon (20 mL) of Dijon mustard
The zest and juice of 2 lemons
A splash of vegetable oil
1  8 ounce (225 g) very fresh tuna steak
Salt and pepper
Procedure
Begin by cooking the potatoes. Bring a large pot of salted water to the boil over medium-high heat. Slip in the potatoes and simmer until tender enough for a fork to pass through easily, 5-10 minutes. Alternatively, steam the potatoes in a stovetop steamer. Remove the potatoes and set aside.
Next, add green beans to the pot or steamer. Cook until bright green and still slightly crisp, 2-3 minutes. Immediately plunge the beans into a bowl of ice water to stop the cooking and preserve its vibrancy.
In a large bowl, whisk together the toss together the potatoes and green beans along with the olives, olive oil, mustard, lemon zest and juice. Season with salt and pepper. Mix gently with a wooden spoon to ensure all the ingredients are evenly distributed and lightly coated with the dressing. Divide the salad base evenly between 4 serving plates.
Heat a splash of vegetable oil in a cast iron or sauté pan over medium-high heat. Rub both sides of tuna steak with salt and pepper. When the pan is hot, sear the tuna for 2 minutes per side, creating a golden brown crust while keeping the middle rare.
Thinly slice the tuna and drape over the potato salad base, fanning the slices to show off its jewel-like interior.
© Chef Michael Smith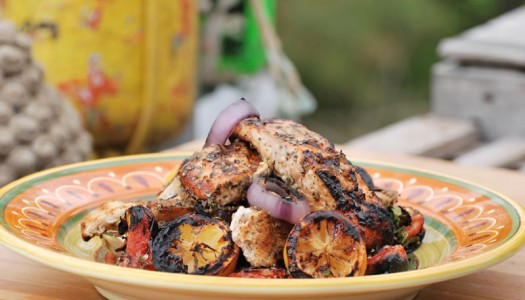 7 years ago
I love salmon. I love its flavor, I love how healthy it is, and I love how easy it is to cook. I especially love it grilled, then tossed into a simple salad. And since the grill is already on, why not grill the whole salad?
View Recipe
8 years ago
Risotto is one of the world's great rice dishes. It's a traditional Italian dish that must be made from rice varieties with very high starch contents. Its distinctive cooking method gently coaxes the starches out of each rice grain, giving the dish its characteristic creaminess. An exercise in patience, but the results are more than worth the effort!
View Recipe