When I was a little boy a tuna sandwich was the very first thing in the kitchen I was allowed to make all by myself. I was very proud that I didn't need a helping hand or a recipe! I know that you don't either, so think of this as a guided tour to jazzing up this kitchen classic with a few new flavours.
Yield: 2 sandwiches
Ingredients
1 6 ounce can water-packed tuna
a squeeze or two lemon juice
a generous splash olive oil
1 tablespoon Dijon mustard
1 tablespoon minced red or green onion
1 tablespoon minced celery
1 tablespoon chopped parsley
a sprinkle or two sea salt and freshly ground pepper
4 slices whole wheat bread
a few lettuce leaves
a handful potato chips
Procedure
Flake the tuna with a fork and then mix it with the lemon juice, olive oil, mustard, onion, celery and parsley. Unlike bland mayonnaise, olive oil will add lots of rich peppery flavour. Have a taste and then season to your liking with salt and pepper.
Spread a thick layer of the tuna salad on 2 slices of bread. Top with a layer of lettuce and crisp potato chips. Slap on the remaining bread. Press down a bit to even out the chips, then have a huge bite. Remember to share the other one!
Variation
A great sandwich can be quickly and easily made with whatever's in your kitchen. If you don't have lemon, a splash of any vinegar will add a bit of sharp flavour contrast. Any type of mustard or onion works well too. I like to try fresh herbs other than parsley; tarragon and dill are two of my favourites. I sometimes add cucumber or even vegetable sprouts. Of course, any bread will work too; try toasting your choice for a bit more crunch. Whatever you do though, make sure you try the chips!
All canned tuna fish is good for you, but I prefer water-packed to oil-packed, and "light" because it has less mercury than albacore or "white" tuna. Both chunky or solid tuna are fine because you'll be flaking it anyway.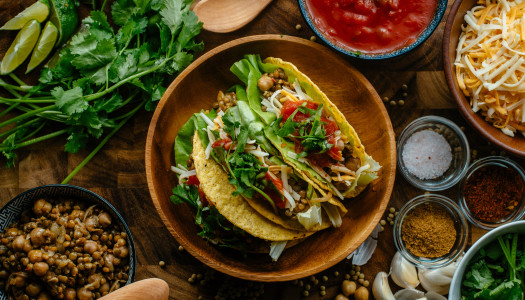 3 years ago
The year 2016 has been declared the International Year of Pulses by the United Nations to celebrate one of the world's most important foods: the edible seeds of the legume family.
Beans, peas, chickpeas, and lentils are packed with fibre, protein, nutrients, and flavour. Their nutritional intensity, inexpensive accessibility, and ease of cooking have made them indispensible staples to cooks all over the globe.
Wherever we live, we all do our best to make healthy choices at home but it's a lot easier when those choices are delicious. These meatless tacos are stuffed with so much sunny southwestern flavour that no one will notice anything missing. What a great way for your family to join families around the world in a global celebration of flavour and nutrition!
View Recipe
8 years ago
In many Italian restaurants the menu term "Tuscan Beef" refers to a particular style of serving beef that is always dramatically finished at the table. An extra thick slab of premium beeflarge enough to serve at least four peopleis slowly roasted on a grill and presented to the table with a classic group of ingredients: arugula leaves, extra virgin olive oil, lemon zest and juice, shaved Parmigiano Reggiano cheese, sea salt and freshly cracked peppercorns. The meat is thinly sliced and draped over a salad of sorts. The results are authentically Italian, spectacularly delicious and a great way to satisfy your primal beef craving and show off at your next dinner party.
View Recipe