From Fast Flavours, 2012
This cocktail evolved as a homage to my all-time favourite treat, a freshly popped can of chilly root beer. The bar chef's goal is thus to craft a licorice-inspired cocktail by respectfully splashing in a few complementary root flavours. Bitters are prized for their healing properties, brewed and distilled from a powerful combination of nature's flavours and roots.
Yield: Crafts 4 Frosty Mugs
Ingredients
4 ounces (120 mL) of Pernod, pastis, ouzo, anisette, or sambuca
1 teaspoon (5 mL) of vanilla
1 teaspoon (5 mL) of Peychaud's or your favourite bitters
4 tablespoons (60 mL) of grated frozen ginger
4 cans or bottles of local artisanal root beer
Procedure
Fill 4 frosty frozen mugs with lots of ice. Divide the Pernod, vanilla, and bitters among the glasses. Top each pile of fragrant ice with a pile of grated ginger. Fill each glass with freshly popped root beer. Stir, sip, savour, and share with a flourish.
© Chef Michael Smith, Fast Flavours, 2012
Variation
On Prince Edward Island we are blessed with many artisan food crafters, including one of my favourites, the folks at J.J. Stewart's (jjstewartsoda.com). They crave authentic flavours as much as I do.
8 years ago
I'm addicted to chocolate and always look for a way to work it into a treat, especially with coffee. Together they make mocha. This coffee flavoured chocolate cake batter baked in coffee cups looks like a cup of coffee - until you cut into it!
View Recipe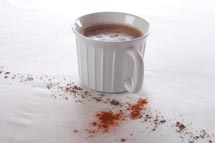 8 years ago
Cocoa powder gives chocolate its rich flavour and makes this steaming mug of hot cocoa my favourite winter treat. A touch of cayenne pepper balances the temperature heat of the brew but doesn't make it too spicy. It's a surprising twist that adds just the right exotic edge.
View Recipe