The humble hamburger can easily be elevated to the heights of cuisine classics with the same attention to detail that any dish deserves. It can also be infinitely varied with lots of your personalized flavours. Ground chuck is your best choice because it has a higher fat content than ground round or ground sirloin.
Yield: Serves 4
Ingredients
1 1/2 pound ground chuck
1 small white onion, finely minced
1 tablespoon soy sauce
1 tablespoon Worcestershire sauce
a sprinkle or two freshly ground pepper
4 soft hamburger rolls
Procedure
Preheat your barbecue on its highest setting.
Toss the beef into a small mixing bowl. Toss in the onion and season with the soy sauce, Worcestershire sauce and pepper. Gently toss everything together until well combined.
Form into 4 evenly shaped burgers no more than 1 inch thick. Form a shallow hollow with your fingers in the centre of each burger. This will help each burger cook evenly, and the hollow will eventually disappear as the meat cooks through.
Cook for about 4 minutes per side. Resist the urge to press on the burgers with your spatula; this just encourages it to release valuable moisture and flavour. Flip and continue cooking until the burger is cooked through to your liking.
Variation
After you flip the burgers add a few pieces of crisp bacon and thinly sliced cheddar cheese to each one. For a pizza burger twist, add a spoonful of pizza sauce and some shredded mozzarella cheese. Sautéed mushrooms and blue cheese are also great. There are also many masterpieces to be built with lettuce, tomato, thinly sliced red onion, other cheeses, ketchup, mustard, BBQ sauce and your other favourite toppings.
8 years ago
You don't need a fire blazing in the backyard or a fancy barbecue to cook a great steak. Pan-roasting works well too, especially if you start with a great steak, use lots of butter and finish with browned onions.
View Recipe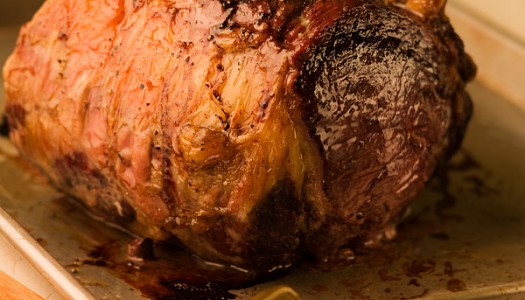 8 years ago
Nothing gets your guests' attention at the table, or your attention in the kitchen, like spending nearly a hundred dollars on a piece of meat, but a prime rib doesn't have to be intimidating. Instead, impress yourself in your own kitchen by cooking it the way the pros do: with a two-step heating process and a few more dollars invested in an accurate meat thermometer.
View Recipe