The humble hamburger can easily be elevated to the heights of cuisine classics with the same attention to detail that any dish deserves. It can also be infinitely varied with lots of your personalized flavours. Ground chuck is your best choice because it has a higher fat content than ground round or ground sirloin.
Yield: Serves 4
Ingredients
1 1/2 pound ground chuck
1 small white onion, finely minced
1 tablespoon soy sauce
1 tablespoon Worcestershire sauce
a sprinkle or two freshly ground pepper
4 soft hamburger rolls
Procedure
Preheat your barbecue on its highest setting.
Toss the beef into a small mixing bowl. Toss in the onion and season with the soy sauce, Worcestershire sauce and pepper. Gently toss everything together until well combined.
Form into 4 evenly shaped burgers no more than 1 inch thick. Form a shallow hollow with your fingers in the centre of each burger. This will help each burger cook evenly, and the hollow will eventually disappear as the meat cooks through.
Cook for about 4 minutes per side. Resist the urge to press on the burgers with your spatula; this just encourages it to release valuable moisture and flavour. Flip and continue cooking until the burger is cooked through to your liking.
Variation
After you flip the burgers add a few pieces of crisp bacon and thinly sliced cheddar cheese to each one. For a pizza burger twist, add a spoonful of pizza sauce and some shredded mozzarella cheese. Sautéed mushrooms and blue cheese are also great. There are also many masterpieces to be built with lettuce, tomato, thinly sliced red onion, other cheeses, ketchup, mustard, BBQ sauce and your other favourite toppings.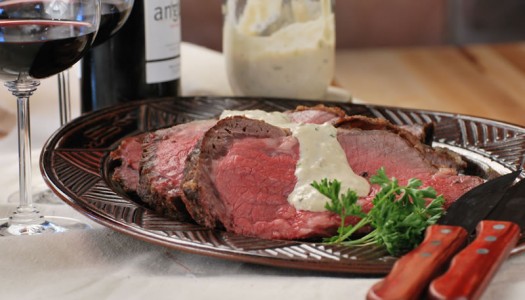 7 years ago
Here's a unique chefs trick for perfectly cooking prime rib. This simple method takes the guesswork out of cooking that all-important holiday dish we love to eat but are sometimes worried about cooking! This is a simple two-step heating process that will take the cringe out of that first slice and allow you to focus on creating a delightful sauce to accompany your perfectly-cooked prime rib.
View Recipe
8 years ago
Filet mignon is prized for its extreme tenderness, not for its rather bland flavour. It doesn't have the rich beefy flavour of a well-marbled steak, but it's still a rare treat and a great way to show off your kitchen's best, especially when you add lots of flavour with an easy-to-make blue cheese crust.
View Recipe