You found it! This is the single most requested recipe in my entire repertoire. Maybe its because the sweet, sour, spicy, salty and savoury flavours of Thailand are one of my favourite ways to fill a bowl. They're seductively addictive, always well balanced and one of the world's great cuisines. They're also easy! This is a very simple dish to make.
Yield: Serves 4
Ingredients
2 cans (14-ounce/400 mL each)of premium coconut milk
1 heaping tablespoon (20 mL) of Thai curry paste
the tender stems of 1 bunch of cilantro, rinsed well
2 chicken breasts, thinly sliced
2 cups (500 mL0 of chicken broth
1 carrot, shredded
4 or 5 lime leaves
2 stalks of lemon grass, halved lengthwise, woody leaves removed
2 tablespoons (30 mL) of fish sauce
the zest and juice of 2 limes
a small knob frozen ginger
a handful bean sprouts
a 8 ounce (225 g) package rice noodles
1 bunch of cilantro leaves, rinsed well
2 or 3 green onions, thinly sliced
a sprinkle or two salt or soy sauce
Procedure
Scoop the thick coconut cream from the top of just one of the cans into a large stockpot set over a medium-high heat. Melt the cream, add the curry paste and stir for a few minutes until they begin to sizzle.
Add the cilantro roots and chicken and sauté until the chicken is cooked through, about 5 minutes.
Add the coconut juice from the first can and all the contents of the second can along with the chicken broth, carrot, lime leaves, lemon grass, fish sauce and lime zest and juice. Grate the frozen ginger into the broth with a Microplane grater or standard box grater. Simmer for 20 minutes or so.
Stir in the bean sprouts. Add the rice noodles, gently pushing them beneath the surface of the broth. Turn off the heat and let stand until the noodles soften, about 5 minutes. Rice noodles don't need to simmer like pasta to cook; they simply need to rehydrate in the hot liquid.
Stir in most of the cilantro leaves. Remove the lemon grass stalks. Taste and season with a touch more salt (or soy sauce) as needed. Ladle into large bowls and garnish with the green onions and remaining cilantro leaves.
Variation
Thai curry pastes get their heat from chili peppers, but they're also loaded with other flavours. You may use as much or as little as you like. Yellow is the mildest; green the hottest. Try stirring in a head of chopped Asian greens or baby spinach with the bean sprouts. You may easily substitute beef or shrimp for the chicken.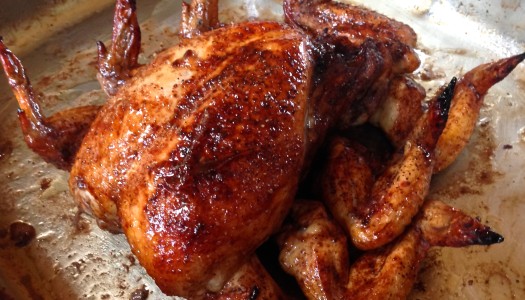 4 years ago
Thrills and chills will abound when you present this chicken to your little ghouls, ghosts and goblins. You'll feel like Dr. Frankenstein putting together your very own monstrous creation, and you'll feel good fuelling your family for an evening of trick-or-treating fun with this simple roasted spider, I mean chicken.
To turn this into a full meal deal, you can roast the chicken over a bed of root vegetables. Cubes of potatoes or carrots, thick slices of onions or whole cloves of garlic are all fair game. They'll soak up the tasty juices that drip off the chicken and give you a complete meal in one pan.
View Recipe
7 years ago
Sometimes the best thing you can do in a kitchen is get out and go for the grill. Here's how to create a simple bed of grilled goodness to anchor a warm salad. All with an easy twist to create a double duty marinade/dressing and jazz it all up.
View Recipe