Sweet potatoes are undeniably healthy being packed full of micronutrients, betacarotene and fibre. They're guaranteed nutritional powerhouses, even when you make one of my favourite holiday treats from south of the border, covered with a thick layer of marshmallows. I'm convinced this classic was created by parents whose kids weren't the least bit interested in how healthy sweet potatoes are, until they showed up at the table covered in marshmallows.
Yield: 6 to 8 servings
Ingredients
6 medium sweet potato or yams, cleaned, unpeeled and cut into large chunks
1 cup (250 mL) of butter
1/2 cup (125 mL) of maple syrup
1 whole nutmeg, grated, a tablespoon or so
1 teaspoon (5 mL) of pure vanilla extract
1 teaspoon (5 mL) of salt
Lots of freshly ground pepper
A 14 ounce (400 g) bag of jumbo marshmallows
1/2 cup (125 mL) or so of candied nuts, crushed, chopped or crumbled
1/2 cup (125 mL) or so of pumpkin seeds
Procedure
Preheat your oven to 375°F (190ºC). Turn on your convection fan if you have one.
Set up a steamer over simmering hot water. Steam the sweet potatoes until tender, about 15 minutes. Transfer to a large bowl and mash until smooth with a potato masher.
Brown the butter by placing it in a saucepan over medium heat, heating and melting it until it begins to steam and foam. Keep a close eye on it as it does foam. Swirl it gently, watching the color. Swirl, watching carefully as a light brown sediment begins to form. When the butter is evenly browned, immediately remove it from the heat and stop any further cooking or blackening by pouring the works over the sweet potato puree and stirring it in.
Stir in the maple syrup, nutmeg, vanilla, salt and pepper. Spoon the works into a 13- x 9-inch baking dish or other ovenproof vessel. Top evenly with a layer of the marshmallows. Sprinkle the candied nuts and pumpkin seeds over the top.
Bake until the marshmallow topping begins to melt and browns evenly, about 15 minutes.
© Chef Michael Smith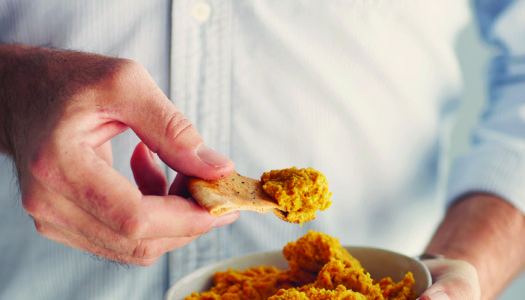 2 years ago
Hummus is perhaps the world's greatest dip. It's unparalleled for addictive avor, smooth texture, nutritional value and the all-important functionality factor. With a batch of hummus ready, you can really release your creative juices. Try it on your favorite crackers, flatbreads or chips. Then top with smoked salmon, various charcuterie, even just plain sprinkled with green onions or giant dill sprigs.
View Recipe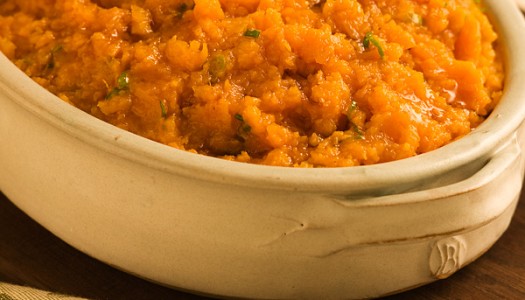 7 years ago
This dish is on my table's top-ten list, and not just because it's easy to make and tastes great. Sweet potatoes are one of the healthiest vegetables you can eat. They're packed with a laundry list of nutrients and always taste great, especially with aromatic olive oil instead of rich butter.
View Recipe