Sweet potatoes make incredible fries. They're so good a lot of kids prefer them over regular potato fries.
Yield: Makes 4 servings
Ingredients
2 tsp fine sea salt
1 tsp brown sugar
1/2 tsp cinnamon
1 tsp chili powder
2 sweet potatoes cut into 1/2 inch wedges
Procedure
Put salt, brown sugar, cinnamon and chili powder into a small jar and shake to combine.
Preheat an electric fryer to 375 degrees. Add sweet potatoes and fry until golden and crispy. The oil temperature will drop a bit, 365 degrees is ideal. Immediately toss the crispy sweet potatoes with a spoonful or two of the seasoned salt.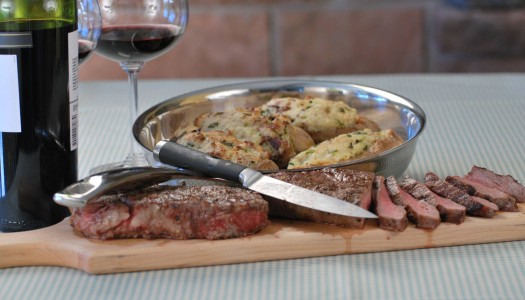 7 years ago
The only thing better than a grilled NY steak, is a grilled NY steak sitting next to a twice baked potato. Especially when its' oozing with Boursin cheese, bacon and sharp horseradish! Did I mention the bacon?
View Recipe
8 years ago
Over the years I've tried experimenting with many additions to the classic burger, and I've discovered that most just don't work. One thing that does work is shredded meat from a tender beef stew. It adds a rich layer of beefy flavour and texture that I love! Just the thing to serve with my all-time favourite spud, smashed potatoes!
View Recipe