This is one of our all-time favourite dishes, a brightly flavoured bowl of half stew, half soup and all flavour. Its spicy aromas are so tasty and addictive that you'll never notice it doesn't include meat. This dish is at its best when it's served over rice.
Yield: Serves 6 to 8
Ingredients
A splash of vegetable oil
1 large onion, diced
3 or 4 cloves of garlic, chopped
A small knob frozen ginger
1 teaspoon (5 mL) of Thai curry paste
2 sweet potatoes, cubed
One 19 ounce (540 mL) can of chickpeas
One 14 ounce (398 mL) can of coconut milk
1 cup (250 mL) of orange juice
1/2 cup (125 mL) of peanut butter or any other nut butter
A sprinkle sea salt
1 cup (250 mL) or so of frozen green peas
Several handfuls baby spinach
A bunch chopped cilantro
Procedure
Add a splash or two of vegetable oil to a stockpot over medium-high heat. Toss in the onion and garlic and sauté them until they're lightly browned, about 5 minutes or so.
Grate the frozen ginger into the pan with a Microplane grater or standard box grater and add the Thai curry paste. Continue cooking until the spices are heated through and fragrant, another few minutes.
Add the sweet potatoes, chickpeas, coconut milk, orange juice and peanut butter and salt. Bring to a simmer, lower the heat and continue simmering until the sweet potatoes are tender, about 30 minutes. Stir in the peas, spinach and cilantro.
Serve over rice.
Variation
There are three basic types of Thai curry paste, each with its own distinctive flavour. You may choose one based on your tolerance for spicy heat: yellow is the mildest, red is a bit spicier and green is the spiciest. This dish cooks very well in your slow cooker. You may use any type of hard winter squash instead of sweet potatoes; butternut and acorn work well.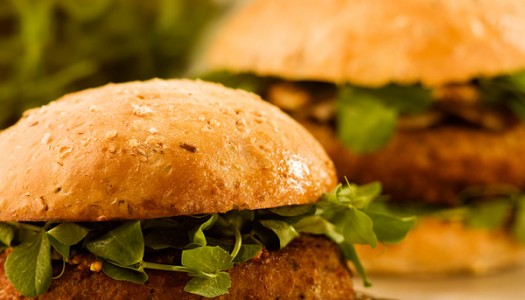 7 years ago
One of the Holy Grails of vegetarian cooking is a meat-free burger that's tasty, nutritious, full of protein, easy to make and easy to handle. Without the strong protein structure of meat, or the scientific hijinks of processed burgers, it can be tricky to get vegetarian burgers to hold together. This burger uses the strength of bulgur wheat and will easily become one of your favourites.
View Recipe
7 years ago
Long ago, the cooks of the world discovered the efficiency of simmering tough meat in tenderizing water. They also discovered that they could add lots of local flavour to make the results more interesting. Today, beef stews are a part of cuisines and cultures around the globe. This one features the bright familiar flavours of the Southwest.
View Recipe