In India, aloo gobi means "potato cauliflower": it's one of their most common vegetable dishes. It's one of my family's favourites too, partly because it's so easy to make, but mostly because it's full of so much addictive bright flavour. It's normally made with plain white potatoes and cauliflower, but, for even more colour, flavour and nutrition, this version uses sweet potatoes instead.
Yield: Serves 4 - 6
Ingredients
1/2 stick Butter
1 tablespoon whole cumin seeds
2 onions, diced
2 teaspoons ground cinnamon
2 tablespoons curry powder
2 large sweet potatoes, peeled and cut into 1-inch chunks
1 head cauliflower, cut into florets
a sprinkle or two sea salt
1/2 cup water
1 cup frozen peas
1 bunch cilantro, chopped
Procedure
Melt the butter in a large skillet over medium heat. Add the cumin seeds and gently fry them for a minute or two to heat them through, remove any shelf staleness and brighten their flavour.
Add the onions and sauté until they soften. Add the cinnamon and curry powder and stir well for another minute or so. The direct heat of the sauté dramatically brightens the flavours of the spices.
Add the sweet potato chunks and cauliflower florets and stir or toss well to coat them with the spices.
Season with salt, add a splash or two of water, cover with a tight-fitting lid and lower the heat. Continue cooking until the sweet potatoes are tender, another 20 minutes or so.
Just before serving, stir in the peas and cilantro, quickly heating them through.
Variation
You may toss in a few sliced green onions along with the cilantro. If you're not a fan of cilantro, simply leave it out. For a more authentic version, try substituting regular potatoes for the sweet potatoes. Feel free to adjust the amount of spices to suit your taste. If you enjoy a bit of spicy heat, try stirring in all or part of a minced jalapeño pepper.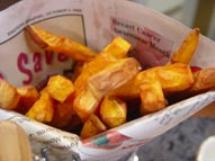 3 years ago
Sweet potatoes make incredible fries. They're so good a lot of kids prefer them over regular potato fries. View Recipe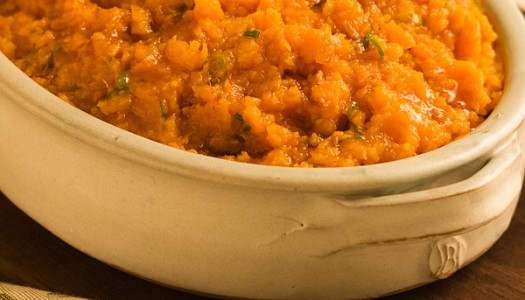 4 years ago
This dish is on my table's top-ten list, and not just because it's easy to make and tastes great. Sweet potatoes are one of the healthiest vegetables you can eat. They're packed with a laundry list of nutrients and always taste great, especially with aromatic olive oil instead of rich butter. View Recipe