This is the recipe my mother uses every year at Christmas time to make a cardamom scented sweetbread. To this day, every time I smell cardamom I think of my mom. It's a blast from the past, a household tradition, all because of a friendly neighbour from my childhood who shared this recipe with me. I of course gave it to my mom to make for me.
Nowadays she makes it in a bread machine, which handles the mixing, kneading and first rising steps. The dough can then be braided and baked as per the recipe. The traditional braiding step makes a beautiful loaf, but isn't necessary. You can form a traditional loaf by rolling it into a log and placing it in a lightly greased loaf pan before baking.
Yield: 1 large loaf
Ingredients
1 1/2 cups (375 mL) of milk
1/2 cup (60 mL) of butter
4 cups (1 L) of flour
3/4 cup (180 mL) of sugar
1 tablespoon (15 mL) of flaxseed (optional)
2 teaspoons (10 mL) of instant yeast
2 teaspoons (10 mL) of ground cardamom
Procedure
In a small pot, gently heat the milk and butter over low heat without letting it boil. Once the butter has melted, remove from heat and let it cool for a couple minutes.
In the bowl of a stand mixer, combine the flour, sugar, flaxseed (if using), yeast and cardamom. Fit the mixer with a dough hook and stir on low for a few second to evenly combine. Pour in the milk mixture and knead with the dough hook until the dough is smooth and elastic, about 5 minutes. Form the dough into a smooth ball and cover with a clean towel. Let stand in a warm spot until it was doubled in size, about 1 hour.
Preheat the oven to 375ºF. Turn on the convection oven if you have one. Line a baking sheet with parchment paper or silicone baking mat.
Deflate the dough and divide into 3 equals pieces. Roll each portion between your palms and the work surface to create a long rope about 16 inches long. Pinch together one end of each rope, then continue to braid the dough similar to braiding hair. When you run out of dough, pinch the loose ends of the dough together. Carefully transfer the dough to the prepared baking sheet, tucking the ends under. Cover with a clean towel and let rise once more, about 45 minutes.
Remove the towel from the bread. Bake until the crust is golden brown, about 35 minutes. Allow to cool before slicing. Serve and share.
8 years ago
This is the tastiest bread I have ever made. It's also the easiest because the secret ingredient in all true bread is time. The key to an addictive loaf of rich, hearty goodness is non-laborious kneading; it's an overnight rest for the living dough. With time, water and flour naturally form an elastic dough that rises with just a small amount of yeast. Here's how to make your own Country Bread, full of rustic whole grain goodness, or a loaf of refined white City Bread.
View Recipe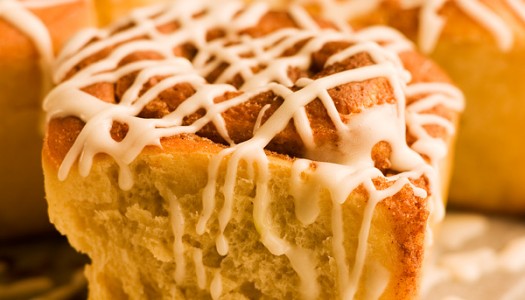 8 years ago
Few things say "Good Morning" better than a batch of warm-from-the-oven cinnamon rolls! You can bake them with speedy baking powder, but an old-school yeast dough always has the best texture and flavour.
View Recipe