From Fast Flavours, 2012
Jump out of bed and hit the ground running with a glass full of goodness. This homemade breakfast treat is a nutritional jump-start. Feel free to vary the base and mix in whatever you have for a jolt of creativity to kick start each and every day. This smoothie tastes so good you'll forget it's healthy!
Yield: 2 to 3
Ingredients
2 ripe bananas, peeled
2 cups (500 mL) or so frozen blueberries, strawberries, raspberries, cherries, blackberries, mango, peach, pineapple or your favourite fruit
1 cup (250 mL) or more of any flavour real yogurt
2 cups (500 mL) or so of orange juice
2 tablespoons (30 mL) or so of refrigerated flax oil or other healthy oil or your favourite nutritional additive
Procedure
Toss all the ingredients into your blender or food processor. Blend the works until very smooth watching the blades work their magic, just a minute or two. Serve and share!
© Chef Michael Smith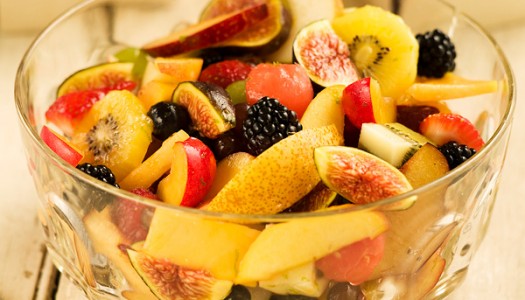 8 years ago
This is one of Gabe's favourite snacks. He loves fruit so we play around in the kitchen and see how many different kinds of citrus fruit, melons, tree fruit, grapes, berries and tropical fruit we can toss into one salad bowl. Our record is 32!
View Recipe
8 years ago
An omelette is a great way to start your day but it's also right at home on the dinner table. Farm-fresh eggs, cheddar cheese and aromatic herbs are all you need to create an elegant, simple meal. Some purists insist that the perfect omelette must never colour, but I prefer the flavour that a touch of browning adds.
View Recipe