A traditional pesto genovese is made with loads of fresh basil, but by no means do you have to stick by tradition. This version has been jazzed up with pungent sun-dried tomatoes. Pesto means paste, and it can have infinite variations based on what inspires you. Switch up the nuts or cheese, add some herbs or spices, or zip it up with some hot sauce.
Yield: Makes 2 cups
Ingredients
1 cup (250 mL) of oil-packed sun-dried tomatoes, removed from the oil
1/2 cup (125 mL) of toasted pine nuts
1/2 cup (125 mL) of grated Parmigiano-Reggiano or Grana Padano cheese
1/2 cup (125 mL) of extra virgin olive oil
the tender stems and leaves of 1 small bunch of parsley
Procedure
Purée everything together in a food processor or blender until smoothly blended.
Serve on top of a grilled steak or tossed in some pasta with your favourite vegetables.
© Chef Michael Smith
7 years ago
Chimichurri is a spicy, vinegar-spiked, pesto-like condiment from Argentina where it's used both as a sauce and a marinade for meat. Its bright flavours reflect the combination of Spanish and Italian influences in Argentina. It's one of the world's great condiments and a great way to add a touch of authentic flair to any grilled meat or fish. You may serve or use as a marinade immediately, but this condiment is at its best after a day or two of refrigeration.
View Recipe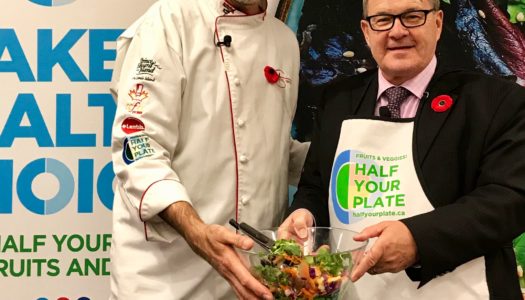 9 months ago
You can fill more than Half Your Plate and create your own salad with this recipe. Chefs know that the art and craft of filling a salad bowl is one of the greatest expressions of the culinary arts. Home cooks love how easy it is to cram the salad bowl with healthy flavours. Everyone enjoys emptying the bowl. You'll love knowing you have plenty of delicious dressing leftover for the next salad and nothing beats impressing yourself in your own kitchen! This one was custom created by Honorable Lawrence MacAulay with Chef Michael Smith's coaching!
View Recipe