A traditional pesto genovese is made with loads of fresh basil, but by no means do you have to stick by tradition. This version has been jazzed up with pungent sun-dried tomatoes. Pesto means paste, and it can have infinite variations based on what inspires you. Switch up the nuts or cheese, add some herbs or spices, or zip it up with some hot sauce.
Yield: Makes 2 cups
Ingredients
1 cup (250 mL) of oil-packed sun-dried tomatoes, removed from the oil
1/2 cup (125 mL) of toasted pine nuts
1/2 cup (125 mL) of grated Parmigiano-Reggiano or Grana Padano cheese
1/2 cup (125 mL) of extra virgin olive oil
the tender stems and leaves of 1 small bunch of parsley
Procedure
Purée everything together in a food processor or blender until smoothly blended.
Serve on top of a grilled steak or tossed in some pasta with your favourite vegetables.
© Chef Michael Smith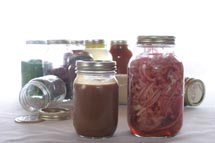 8 years ago
These tasty onions lose all their pungency in the pickling process but gain a sweet sharpness that makes them a great last minute addition to any salad. They're a multi-purpose condiment and are delicious with any type of fish.
View Recipe
4 years ago
There's no need to slave over the stove or make a run to the supermarket the next time you're inspired to fire up the grill. Spicy, savoury BBQ sauce is only minutes away by simply stirring together a few pantry staples. Slather it on slow-roasted ribs, spoon it over pulled pork, or simply serve with your steak.
View Recipe