Fruit baked under a topping is delicious and so is fruit baked in the topping. Easier too. Just mix the works together into one tasty jumble. Half fruit, half crumble, all easy. Locally delicious too, especially during the seasonal sweet spot when your local strawberries line up with longer-season fresh rhubarb. Make the most of this classic good cop/bad cop duo contrasting sweet and tart personalities!
You can create this dessert with any of the season's berries. Unless you have strawberries fresh from your backyard or the local farmer's market though, use frozen strawberries for the best flavour. Fresh from away is a waste of time. Just saying.
Yield: 6-8 people with leftovers
Ingredients
2 cups (500 mL) of quick oats
2 cups (500 mL) of brown sugar
1/2 cup (125 mL) of all-purpose flour
1 tablespoon (15 mL) of cinnamon
1/2 cup (4 oz) of melted butter
1 tablespoon (15 mL) of vanilla extract
1 standard size bag (21 oz/600 g) of sliced frozen strawberries
14 – 16 stalks (40 oz/1.1 kg) of rhubarb, cut into 1" chunks
Procedure
Prepare and preheat your oven to 350 °F. Turn on your convection fan if you have one.
In a large mixing bowl, mix together the oats, brown sugar, flour, and cinnamon. The flour will help thicken the juices released by the fruits. Stir the vanilla into the butter and stir into the oats. Thoroughly mix everything together. Add the berries and rhubarb and toss thoroughly. Place in a standard 9" x 13" baking dish.
Bake until bubbly around the edges and lightly golden on top, about 1 hour. Cool on a cooling rack for at least 15 minutes. Serve and share!
© Chef Michael Smith
8 years ago
My favourite dessert is a thick slice of just-baked pie, with apples fresh from our local orchard, and still warm from the oven. But I'm always careful to save a thick wedge because I believe apple pie is at its best the next morning for breakfast. I prefer an easy-to-make butter pastry crust. Its secret is frozen butter, which adds flavour and is much easier than shortening to "cut" into the flour.
View Recipe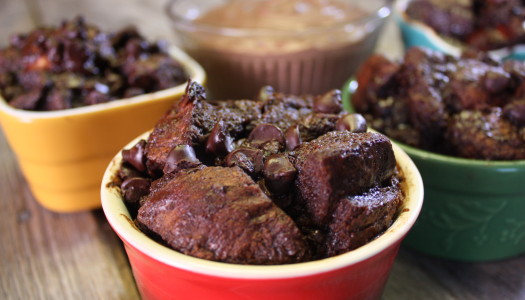 3 years ago
It's fun to try new ideas and it's always fun to freestyle cook. And it's particularly fun to stir every form of chocolate into one bread pudding. I admit sometimes I feel the need to go overboard a little bit and even push some limits, but the kitchen is a really safe place to do that, and a fun place too. Once you know the bread pudding rules, you can break them all day long. Who knows? You might just end up with Five Chocolate Bread Pudding with Chocolate Whipped Cream.
View Recipe