Fruit baked under a topping is delicious and so is fruit baked in the topping. Easier too. Just mix the works together into one tasty jumble. Half fruit, half crumble, all easy. Locally delicious too, especially during the seasonal sweet spot when your local strawberries line up with longer-season fresh rhubarb. Make the most of this classic good cop/bad cop duo contrasting sweet and tart personalities!
You can create this dessert with any of the season's berries. Unless you have strawberries fresh from your backyard or the local farmer's market though, use frozen strawberries for the best flavour. Fresh from away is a waste of time. Just saying.
Yield: 6-8 people with leftovers
Ingredients
2 cups (500 mL) of quick oats
2 cups (500 mL) of brown sugar
1/2 cup (125 mL) of all-purpose flour
1 tablespoon (15 mL) of cinnamon
1/2 cup (4 oz) of melted butter
1 tablespoon (15 mL) of vanilla extract
1 standard size bag (21 oz/600 g) of sliced frozen strawberries
14 – 16 stalks (40 oz/1.1 kg) of rhubarb, cut into 1" chunks
Procedure
Prepare and preheat your oven to 350 °F. Turn on your convection fan if you have one.
In a large mixing bowl, mix together the oats, brown sugar, flour, and cinnamon. The flour will help thicken the juices released by the fruits. Stir the vanilla into the butter and stir into the oats. Thoroughly mix everything together. Add the berries and rhubarb and toss thoroughly. Place in a standard 9" x 13" baking dish.
Bake until bubbly around the edges and lightly golden on top, about 1 hour. Cool on a cooling rack for at least 15 minutes. Serve and share!
© Chef Michael Smith
5 months ago
Nothing says fall in Canada like fresh local apples. They're crisp and tasty straight off the tree and magically even more delicious baked. Everyone loves their warm rustic flavours and you'll love how easy it is to stuff them in the oven but why wait? You can fill Half Your Plate and enjoy this treat any time of year!
View Recipe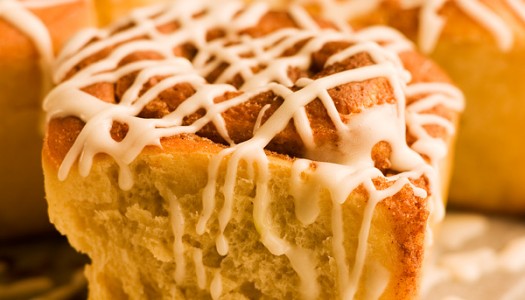 8 years ago
Few things say "Good Morning" better than a batch of warm-from-the-oven cinnamon rolls! You can bake them with speedy baking powder, but an old-school yeast dough always has the best texture and flavour.
View Recipe