Mussels travel with their own built-in sauce base. They're easy to steam and, when you do, they release a flavourful broth that many connoisseurs swear is the best part. That broth can be flavoured any way you want, so mussels are also a great ingredient to freestyle with.
Yield: 4
Ingredients
5-6 pounds of mussels, rinsed well with cold running water
1 cup of any flavourful liquid
1 cup of any other flavourful ingredients
1-2 splashes of olive oil or a spoonful or so of butter
Procedure
Wash the mussels very well and discard any that are open and won't close with a bit of gentle finger pressure.
Pour the liquid and other aromatic ingredients of your choice into a large pot with a tight-fitting lid. Stir to combine and bring to a simmer over medium-high heat. Add the mussels and cover with the lid. Shake the pot occasionally and cook until all the mussels have opened, 10 minutes or so. Discard any that haven't opened.
Spoon out the mussels into a serving bowl. Strain the remaining liquid and serve over the mussels. There's always a bit of broken shell or lingering sand in it.
Variation
1. Thai: coconut milk and a spoonful of Thai curry paste
2. Southwestern: salsa, cilantro and a splash of tequila
3. Mediterranean: tomato purée, minced garlic and capers
4. Italian: canned tomatoes, minced garlic and Basil Pesto
5. Greek: tomato juice, chopped olives, minced garlic, artichoke hearts, the zest and juice of 2 lemons, a spoonful of oregano and olive oil
6. French: white wine, Dijon mustard and butter
7. English: a can of Guinness beer and sliced onions
8. Apple: apple cider with a splash of apple cider vinegar
9. Japanese: a few spoonfuls of soy sauce, a splash of rice wine vinegar, a few drops of toasted sesame oil and sliced green onions
10. California: orange juice, orange marmalade, lemon juice and diced red bell pepper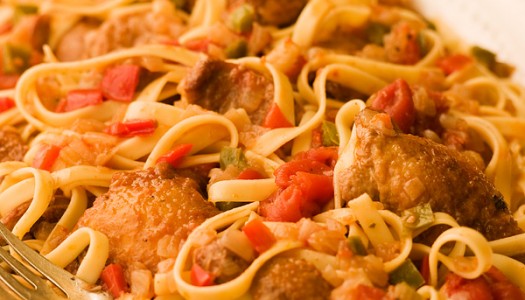 8 years ago
This rustic dish shows how easy it is to braise any type of meat in a tomato sauce. The results are tender, flavourful and perfect for any type of pasta. This is a hearty meal in a bowl.
View Recipe
8 years ago
This is one of my favourite dishes. I love the bright curried lentil sauce and the soft fragrance of the basmati rice. Together they're addictively aromatic and one of the all-time great flavour combinations. Best of all, this dish is loaded with healthy goodness!
View Recipe