This is by far my favourite way to cook and serve broccoli. It's super-simple, super-speedy and super-tasty and because you're not boiling the broccoli and leaching away nutrients and flavour, it's also super-healthy.
As the broccoli steams it's perfumed – but not overwhelmed – with garlic. You can also add your favourite flavours. After trying this method once or twice you'll quickly realize how easy it is to modify with your own ideas. Feel free to experiment because this will always be the best way to get a head of steaming broccoli on the table in ten minutes flat!
Yield: 4 TO 6 SERVINGS
Ingredients
One large head or bunch of broccoli
1 cup (250 mL) of water
A clove or two of thinly sliced garlic
A splash of olive oil or a bit of butter
1/2 teaspoon (2 mL) of salt
lots of freshly ground pepper or your favourite hot sauce
Procedure
Prep the broccoli: Trim the broccoli florets from the stalk then cut them into bite-sized pieces. Trim the woody end from the bottom of the stalk and discard. Cut the remaining stalk in half the long way than in half again. Dice into small pieces.
Pour the water into the bottom of a small saucepot. Add the garlic, oil, salt and pepper, cover tightly and begin heating over medium high heat. Bring to the simmer as the garlic loses its sharp pungency and perfumes the steam, a minute or two. Toss in the diced broccoli stems, cover and return to the simmer, giving them a head start for a minute or two.
Add the broccoli florets, cover and steam until tender, bright green and delicious, no more than five minutes. The water will finish evaporating just as the broccoli finishes cooking. Remove the pan from the heat and give it a good shake tossing the broccoli with the oil and garlic. Serve and share immediately!
© Chef Michael Smith – #HalfYourPlate
Variation

Try adding your favourite fresh or dried herb to the works. Minced fresh thyme is one of my favourite versions.
For a bit of Asian flair, try flavouring the water with grated fresh or frozen ginger and soya sauce
You can substitute orange juice for the water and add a spoonful of marmalade for an orange glazed version
This basic method works for many other green vegetables too: Asparagus, snow peas, snap peas, Brussels sprouts and kale all benefit from a quick steam.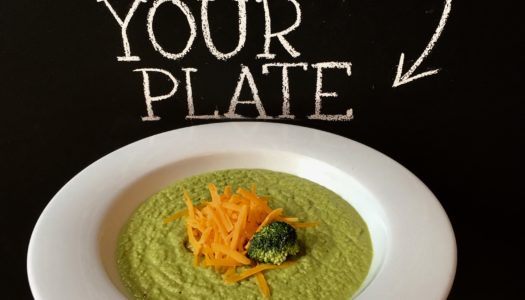 1 year ago
There's nothing quite like a steaming hot soup bowl brimming with intense vegetable goodness. But not a fan of pale promises? Vegetable soup that's more filler than flavour? No worries. You can fill more than Half Your Plate with true broccoli flavour by following this super simple recipe.
As with any simple soup recipe a few easy options are included too:
>Bacon and cheddar for even deeper flavour that's guaranteed to satisfy any picky veggie-averse eaters.
>Your choice of liquid so you can control how rich the results are.
>How to make a pure vegetarian version.
View Recipe
2 years ago
When I toss romaine hearts into my shopping cart, chances are I'm heading home to make my family's favourite salad. Every cook should know the joy of crafting a true Caesar salad while avoiding the also-ran dressings at the supermarket that never quite measure up to the real thing. Over time we've experimented with lots of additional flavours in this salad but, more often than not, I toss in lots of fresh basil leaves and brightly flavoured cherry tomatoes. What a great way to fill Half Your Plate!
View Recipe