The rich meaty flavour of mushrooms make them one of the most popular side dishes in any steakhouse. This richly flavoured side dish is also perfect with a simple green salad or a freshly baked potato, or tossed with pasta.
Yield: Serves 4
Ingredients
1 pound or so mixed mushrooms
1/2 stick Butter
2 onions, peeled and sliced
4 cloves garlic, minced
1 bunch fresh thyme, chopped, or 1 Tablespoon of dried
a sprinkle or two sea salt and freshly ground pepper
a splash or two any red wine
1/2 cup heavy cream (35%)
2 green onions, thinly sliced
Procedure
Trim the mushrooms as needed, removing any tough stems. Cut the larger mushrooms into smaller pieces. Smaller mushrooms may be left whole or simply halved to show off their form. Rinse all the mushrooms well and roll them in a tea towel to dry them off.
Preheat a large skillet over medium-high heat and add the butter, onions and garlic. Sauté until the onions just begin to turn golden brown. Add the mushrooms and continue. In a few minutes the mushrooms will release quite a bit of moisture and become a bit soupy.
Add the thyme and salt and pepper. Continue cooking until the mushrooms are tender and most of the moisture has evaporated, concentrating the flavour. Add your choice of wine or spirit and the cream. Continue simmering until the sauce has thickened once again. Stir in the green onions.
Variation
You may use any combination of mushroomsshiitake, oyster, portabella, button or creminior just a single variety to make this dish. For the liquor, you may use sherry, port, brandy, Madeira or Marsala. For the herbs, try using rosemary or tarragon instead of thyme, and dried herbs are fine if you don't have fresh.
8 years ago
I love the way stewing transforms inexpensive, tough cuts of beef into tasty, tender stew. The earthy flavours of root vegetables combine with the full body of beef stock and aromatic red wine to form a rich flavour base. The only thing better than a bowlful of hearty stew is the same bowl with a biscuit topping!
Ease of Preparation: Moderate
View Recipe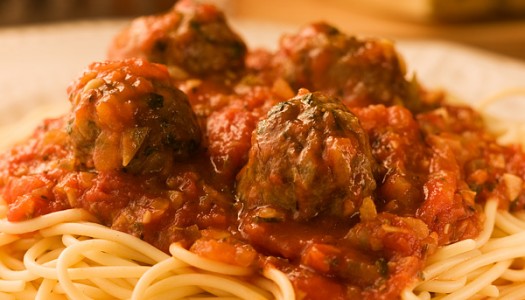 8 years ago
There's nothing more satisfying than a bowl full of spaghetti and meatballs and my gold standard tomato sauce. Every cook has an all-purpose tomato sauce up his or her sleeve, a perfect last-minute pasta sauce that's just as good served without meatballs.
View Recipe