This all-purpose condiment is a great way to add a splash of Thai flavour to a salad or vegetable dish. The secret to its exotic flavour is its perfect balance of sweet, sour, salty and spicy.
Yield: Makes about 3 cups
Ingredients
2 cups smooth peanut butter
4 limes, zest and juice
1/4 cup honey
1/4 cup soy sauce
1/4 cup water
1 teaspoon chili flakes or hot sauce
a large bunch mint
a handful or two peanuts
Procedure
Toss everything into your food processor or blender, then purée until almost smooth, leaving the peanuts a touch chunky. Some blenders are stronger than others; if yours needs a little help, add a splash of water to help it purée to a thick peanut butter consistency.
Variation
If you like the strong flavour of fresh cilantro, use it to replace some or all of the mint. For even more authentic Thai flavour, add a splash of Thai fish sauce.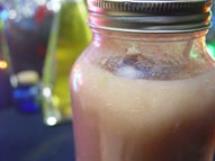 8 years ago
In the fall, when apples are in peak season, I always make a giant batch or two of applesauce and freeze it. It's one of my favourite things to do in the kitchen with my son Gabe. Then, all winter long, we're reminded of our favourite season.
View Recipe
8 years ago
This is the classic Pesto Genovese featuring basil, pine nuts and Parmesan. It's a perfect accompaniment for white meats, fish or pasta. Because the word 'pesto' simply means 'paste' you can use many different ingredient combinations to make this tasty condiment.
View Recipe