This all-purpose condiment is a great way to add a splash of Thai flavour to a salad or vegetable dish. The secret to its exotic flavour is its perfect balance of sweet, sour, salty and spicy.
Yield: Makes about 3 cups
Ingredients
2 cups smooth peanut butter
4 limes, zest and juice
1/4 cup honey
1/4 cup soy sauce
1/4 cup water
1 teaspoon chili flakes or hot sauce
a large bunch mint
a handful or two peanuts
Procedure
Toss everything into your food processor or blender, then purée until almost smooth, leaving the peanuts a touch chunky. Some blenders are stronger than others; if yours needs a little help, add a splash of water to help it purée to a thick peanut butter consistency.
Variation
If you like the strong flavour of fresh cilantro, use it to replace some or all of the mint. For even more authentic Thai flavour, add a splash of Thai fish sauce.
8 years ago
Chimichurri is a spicy, vinegar-spiked, pesto-like condiment from Argentina where it's used both as a sauce and a marinade for meat. Its bright flavours reflect the combination of Spanish and Italian influences in Argentina. It's one of the world's great condiments and a great way to add a touch of authentic flair to any grilled meat or fish. You may serve or use as a marinade immediately, but this condiment is at its best after a day or two of refrigeration.
View Recipe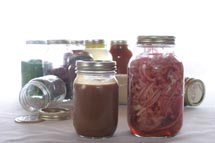 8 years ago
These tasty onions lose all their pungency in the pickling process but gain a sweet sharpness that makes them a great last minute addition to any salad. They're a multi-purpose condiment and are delicious with any type of fish.
View Recipe