This all-purpose condiment is a great way to add a splash of Thai flavour to a salad or vegetable dish. The secret to its exotic flavour is its perfect balance of sweet, sour, salty and spicy.
Yield: Makes about 3 cups
Ingredients
2 cups smooth peanut butter
4 limes, zest and juice
1/4 cup honey
1/4 cup soy sauce
1/4 cup water
1 teaspoon chili flakes or hot sauce
a large bunch mint
a handful or two peanuts
Procedure
Toss everything into your food processor or blender, then purée until almost smooth, leaving the peanuts a touch chunky. Some blenders are stronger than others; if yours needs a little help, add a splash of water to help it purée to a thick peanut butter consistency.
Variation
If you like the strong flavour of fresh cilantro, use it to replace some or all of the mint. For even more authentic Thai flavour, add a splash of Thai fish sauce.
8 years ago
A jar packed with freshly tossed salsa, full of juicy ripe tomatoes and aromatic flavours, is easy to make and easy to enjoy. Sweet tomatoes, sour limes, aromatic herbs, salt and spicy pepper all balance each other in a vibrant harmony of tastes. A good salsa doesn't ruin your day with too much spicy heat; it brightens it with just enough.
View Recipe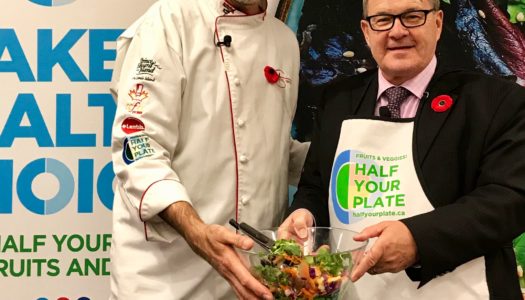 1 year ago
You can fill more than Half Your Plate and create your own salad with this recipe. Chefs know that the art and craft of filling a salad bowl is one of the greatest expressions of the culinary arts. Home cooks love how easy it is to cram the salad bowl with healthy flavours. Everyone enjoys emptying the bowl. You'll love knowing you have plenty of delicious dressing leftover for the next salad and nothing beats impressing yourself in your own kitchen! This one was custom created by Honorable Lawrence MacAulay with Chef Michael Smith's coaching!
View Recipe