A jar packed with freshly tossed salsa, full of juicy ripe tomatoes and aromatic flavours, is easy to make and easy to enjoy. Sweet tomatoes, sour limes, aromatic herbs, salt and spicy pepper all balance each other in a vibrant harmony of tastes. A good salsa doesn't ruin your day with too much spicy heat; it brightens it with just enough.
Yield: Makes about 2 cups
Ingredients
2 or 3 ripe local tomatoes, finely chopped
1 red onion, minced
1 chili pepper, minced
1 bunch chopped cilantro
1 or 2 limes, zest and juice
a big splash best olive oil
1 teaspoon tomato paste
1 teaspoon ground cumin
a sprinkle or two salt
Procedure
Toss everything together in a bowl until well combined.
Garden tomatoes have the most flavourwhen they're in season. If they're not, look for organic or vine-attached types, take them home and ripen them for a few days on a sunny windowsill. In a pinch, a small can of whole tomatoes is more flavourful than a few hard unripe ones and will add lots of deep, rich tomato flavour.
Variation
There are many types of chili peppers, each with its own heat level and flavour. I prefer medium heat varieties like poblano and jalapeño. You may substitute chili peppers with freshly grated ginger. Cilantro is the classic fresh herb in salsa, but basil, oregano and even parsley work well too. The sweet pungency of a red onion is a great replacement for the green onions. You can save some time by tossing everything into your food processor. The colour will be a bit dark but the results will still taste great.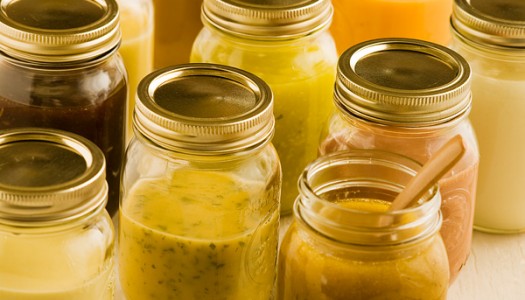 8 years ago
It's easy to make your own personalized salad dressings. The basic ratio of sour, sweet and oil is easily modified and infinitely variable. This recipe makes enough for several salads because it's just as easy to make a lot as a little and, once you taste your own dressings, you won't be able to get enough.
View Recipe
3 years ago
Pesto is an intensely flavored condiment traditionally made from fresh green herbs, nuts, cheese and olive oil. It's an incredibly easy way to add a big, bright boost of fresh flavor to nearly any dish. This version is less expensive than the classic Genovese blend of basil, pine nuts and Parmigiano-Reggiano, but with spicy arugula, peperoncini and almonds it's just as flavorful. You can just as easily incorporate traditional fresh basil into the works if you like. Either way, you'll discover that a little goes a long way.
View Recipe