Coleslaw is a classic pairing for pulled pork, primarily because of the crunchy texture contrasting against the soft pork. Plain cabbage can come along way with a bright dressing. My secret ingredient is fennel seeds, but it can be swapped out for your favourite herb or spice. As long as you start with mayonnaise and add something sour and something sweet, your coleslaw will taste great. It will be delicious as soon as you make it, but will taste even better the next day after the ingredients have gotten to know each other.
Yield: Makes enough for 12 or more pulled pork sandwiches
Ingredients
1 small head of green cabbage, thinly sliced
1 carrot, shredded
1 cup (250 mL) of mayonnaise
1/2 cup (125 mL) of horseradish
1/2 cup (125 mL) of white vinegar
1/4 cup (60 mL) of honey
1/4 cup (60 mL) of fennel seed
Procedure
Pile the cabbage and carrot into a large salad bowl. Whisk together the mayonnaise, horseradish, vinegar, honey and fennel seed. Pour the dressing over the vegetables and toss until evenly and lightly coated. You may serve this immediately or refrigerate overnight to further develop the flavours. Toss again before serving with the pulled pork sandwiches.
3 years ago
Light, crisp salad greens, fresh vegetables, and a tangy, well balanced dressing tastefully completes any meal. Skip the store bought croutons and impress your table with this homemade version. Chewy on the inside while irresistibly crisp on the outside, these croutons bake in the oven while you get the rest of the ingredients ready. Finish by adorning this versatile salad with unbeatable crunch.
View Recipe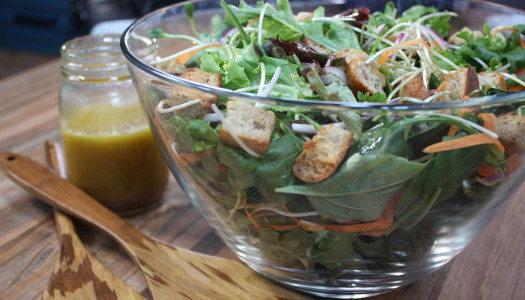 3 years ago
This salad celebrates the abundance of harvest time with crunchy croutons, spicy seeds and colourful cranberries.
View Recipe