Coleslaw is a classic pairing for pulled pork, primarily because of the crunchy texture contrasting against the soft pork. Plain cabbage can come along way with a bright dressing. My secret ingredient is fennel seeds, but it can be swapped out for your favourite herb or spice. As long as you start with mayonnaise and add something sour and something sweet, your coleslaw will taste great. It will be delicious as soon as you make it, but will taste even better the next day after the ingredients have gotten to know each other.
Yield: Makes enough for 12 or more pulled pork sandwiches
Ingredients
1 small head of green cabbage, thinly sliced
1 carrot, shredded
1 cup (250 mL) of mayonnaise
1/2 cup (125 mL) of horseradish
1/2 cup (125 mL) of white vinegar
1/4 cup (60 mL) of honey
1/4 cup (60 mL) of fennel seed
Procedure
Pile the cabbage and carrot into a large salad bowl. Whisk together the mayonnaise, horseradish, vinegar, honey and fennel seed. Pour the dressing over the vegetables and toss until evenly and lightly coated. You may serve this immediately or refrigerate overnight to further develop the flavours. Toss again before serving with the pulled pork sandwiches.
8 years ago
Asparagus is my son Gabe's favourite vegetable so I've invented a lot of ways to serve it to keep him from getting bored. Here it stars in a tasty salad that grown-ups will love too!
View Recipe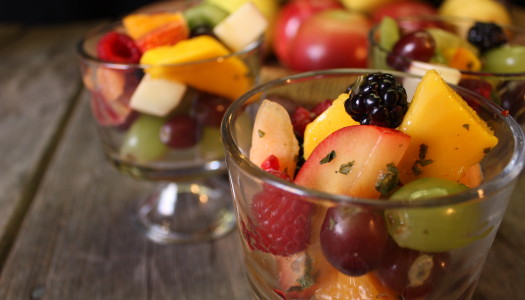 4 years ago
I love fruit. I live for fruit. I'm powered by fruit! When fruit is properly ripened, it can be one of the best things to eat, so when you combine all your favourites together in a fruit salad, it can be a revelation.
How about balancing all that sweet with some sour lime, spicy chilli and cooling mint? Or what about using a secret ingredient that pairs perfectly with fruit? No one will ever know that it's vanilla adding that mysterious yet familiar flavour.
View Recipe