There's no need to slave over the stove or make a run to the supermarket the next time you're inspired to fire up the grill. Spicy, savoury BBQ sauce is only minutes away by simply stirring together a few pantry staples. Slather it on slow-roasted ribs, spoon it over pulled pork, or simply serve with your steak.
Yield: 2 cups
Ingredients
1 cup (250 mL) of red wine vinegar
A 5 1/2 ounce (156 mL) can of tomato paste
1/4 cup (60 mL) of chili powder
1/2 cup (125 mL) of molasses
1 tablespoon (15 mL) of Worcestershire sauce
1 tablespoon (15 mL) of ground cumin
1 tablespoon (15 mL) of dried oregano
1 tablespoon of your favourite hot sauce (optional)
1 teaspoon (5 mL) of cinnamon (optional)
1/2 teaspoon (2 mL) of salt
Procedure
In a medium bowl whisk all the ingredients together.
Store in a tightly sealed jar in the refrigerator. Use it whenever you want to add authentic zest to your BBQ or lots of flavour to simple baked chicken breast or salmon filet. If you are grilling or barbecuing be sure to brush this sauce on towards the end of cooking so it doesn't burn.
3 years ago
Pesto is an intensely flavored condiment traditionally made from fresh green herbs, nuts, cheese and olive oil. It's an incredibly easy way to add a big, bright boost of fresh flavor to nearly any dish. This version is less expensive than the classic Genovese blend of basil, pine nuts and Parmigiano-Reggiano, but with spicy arugula, peperoncini and almonds it's just as flavorful. You can just as easily incorporate traditional fresh basil into the works if you like. Either way, you'll discover that a little goes a long way.
View Recipe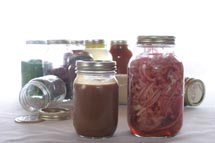 8 years ago
These tasty onions lose all their pungency in the pickling process but gain a sweet sharpness that makes them a great last minute addition to any salad. They're a multi-purpose condiment and are delicious with any type of fish.
View Recipe