There's no need to slave over the stove or make a run to the supermarket the next time you're inspired to fire up the grill. Spicy, savoury BBQ sauce is only minutes away by simply stirring together a few pantry staples. Slather it on slow-roasted ribs, spoon it over pulled pork, or simply serve with your steak.
Yield: 2 cups
Ingredients
1 cup (250 mL) of red wine vinegar
A 5 1/2 ounce (156 mL) can of tomato paste
1/4 cup (60 mL) of chili powder
1/2 cup (125 mL) of molasses
1 tablespoon (15 mL) of Worcestershire sauce
1 tablespoon (15 mL) of ground cumin
1 tablespoon (15 mL) of dried oregano
1 tablespoon of your favourite hot sauce (optional)
1 teaspoon (5 mL) of cinnamon (optional)
1/2 teaspoon (2 mL) of salt
Procedure
In a medium bowl whisk all the ingredients together.
Store in a tightly sealed jar in the refrigerator. Use it whenever you want to add authentic zest to your BBQ or lots of flavour to simple baked chicken breast or salmon filet. If you are grilling or barbecuing be sure to brush this sauce on towards the end of cooking so it doesn't burn.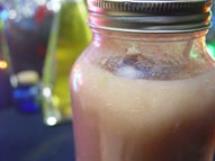 8 years ago
In the fall, when apples are in peak season, I always make a giant batch or two of applesauce and freeze it. It's one of my favourite things to do in the kitchen with my son Gabe. Then, all winter long, we're reminded of our favourite season.
View Recipe
8 years ago
This classic sauce turns anything into instant dessert with its deep caramel flavour. Every time I transform bland white sugar into rich, slightly bitter caramel I get excited. I think it's magical how much flavour a simple cooking process can add! Your family will too.
View Recipe