Ingredients
4 cups mixed nuts
1 egg white
1 heaping Tablespoon grainy mustard
2 tablespoons sugar
1/2 teaspoon cayenne
salt
Procedure
Preheat oven to 350 degrees.
Lightly whisk egg white and add mustard, sugar, cayenne and salt to taste. Add nuts and toss well to cover. Spread out onto a baking sheet. Bake for 15 minutes, or until nuts are lightly browned.
7 years ago
There are as many ways to pile flavour on a slice of crisp bread as there are cooks. Here are some ideas to help you find your favourite!
View Recipe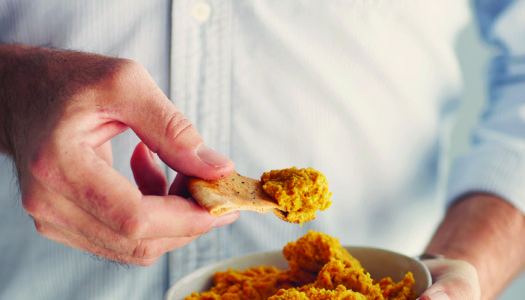 2 years ago
Hummus is perhaps the world's greatest dip. It's unparalleled for addictive avor, smooth texture, nutritional value and the all-important functionality factor. With a batch of hummus ready, you can really release your creative juices. Try it on your favorite crackers, flatbreads or chips. Then top with smoked salmon, various charcuterie, even just plain sprinkled with green onions or giant dill sprigs.
View Recipe