Ingredients
4 cups mixed nuts
1 egg white
1 heaping Tablespoon grainy mustard
2 tablespoons sugar
1/2 teaspoon cayenne
salt
Procedure
Preheat oven to 350 degrees.
Lightly whisk egg white and add mustard, sugar, cayenne and salt to taste. Add nuts and toss well to cover. Spread out onto a baking sheet. Bake for 15 minutes, or until nuts are lightly browned.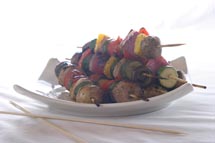 5 years ago
A grilled vegetable skewer is one of the best ways I know to get kids to eat vegetables – especially when they're marinated in a tasty herb vinaigrette. Just about any veggie will grill nicely, so use your imagination and get ready for empty plates.
View Recipe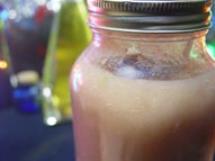 5 years ago
In the fall, when apples are in peak season, I always make a giant batch or two of applesauce and freeze it. It's one of my favourite things to do in the kitchen with my son Gabe. Then, all winter long, we're reminded of our favourite season.
View Recipe