Spiced Maple Ice Tea
Yield: Makes 4 servings
Ingredients
6 cups (1.5 L) of boiling water
6 green tea bags
1 whole or 1 tablespoon (15 mL) of cracked or powdered star anise
1/2 cup (125 mL) of maple syrup
1 lemon, sliced
lots of ice
Procedure
Put the tea bags, star anise, maple syrup and slices of lemon in a large heatproof jar. Pour the boiling water over top and let brew to your desired strength, 5 minutes or so. Remove the tea bags, seal and chill thoroughly overnight.
Fill a pitcher with lots of ice and pour the aromatic tea over it. Serve in tall glasses on a warm, sunny day.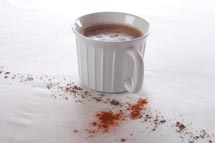 8 years ago
Cocoa powder gives chocolate its rich flavour and makes this steaming mug of hot cocoa my favourite winter treat. A touch of cayenne pepper balances the temperature heat of the brew but doesn't make it too spicy. It's a surprising twist that adds just the right exotic edge.
View Recipe