Spiced Maple Ice Tea
Yield: Makes 4 servings
Ingredients
6 cups (1.5 L) of boiling water
6 green tea bags
1 whole or 1 tablespoon (15 mL) of cracked or powdered star anise
1/2 cup (125 mL) of maple syrup
1 lemon, sliced
lots of ice
Procedure
Put the tea bags, star anise, maple syrup and slices of lemon in a large heatproof jar. Pour the boiling water over top and let brew to your desired strength, 5 minutes or so. Remove the tea bags, seal and chill thoroughly overnight.
Fill a pitcher with lots of ice and pour the aromatic tea over it. Serve in tall glasses on a warm, sunny day.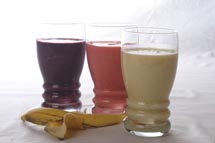 8 years ago
A well-crafted smoothie tastes so good you'll forget it's good for you! It's one of my favourite ways to fill a glass with energy, nutrients and flavour. Use it to kick off your day - everyday - with the goodness of fruit. At heart, it's just flavoured fruit puree so it's easy to make. It's also easy to jazz up with other healthy goodies like flax seed oil, yogurt or berries.
View Recipe
8 years ago
I'm addicted to chocolate and always look for a way to work it into a treat, especially with coffee. Together they make mocha. This coffee flavoured chocolate cake batter baked in coffee cups looks like a cup of coffee - until you cut into it!
View Recipe