Yield: Serves 4 to 6
Ingredients
4 baking potatoes (about 2 pounds or 1 kg)
2 tablespoons (30 mL) or so of vegetable oil
2 tablespoons (30 mL) or so of Chef Michael's Spicy Spice rub
Procedure
Preheat your oven to 400ºF (200ºC). Turn on your convection fan if you have one. Line a baking pan with a silicone baking mat or parchment paper.
Cut each unpeeled potato into 8 to 10 wedges. Pile them into a large bowl, splash in the oil and sprinkle in the Spicy Spice spice rub. Toss the potatoes until every piece is lightly coated with oil and flavour.
Spread the potatoes out in the baking pan in a single layer. Roast, flipping once half way through, until golden brown on both sides and tender on the inside, 30 to 45 minutes.
Serve and share!
© Chef Michael Smith
8 years ago
Over the years I've tried experimenting with many additions to the classic burger, and I've discovered that most just don't work. One thing that does work is shredded meat from a tender beef stew. It adds a rich layer of beefy flavour and texture that I love! Just the thing to serve with my all-time favourite spud, smashed potatoes!
View Recipe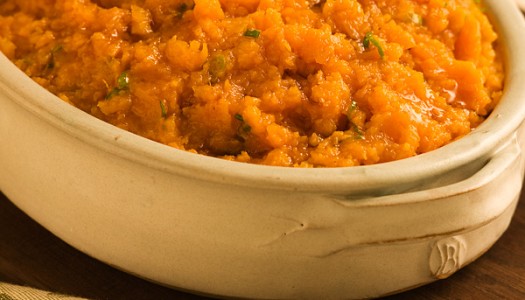 8 years ago
This dish is on my table's top-ten list, and not just because it's easy to make and tastes great. Sweet potatoes are one of the healthiest vegetables you can eat. They're packed with a laundry list of nutrients and always taste great, especially with aromatic olive oil instead of rich butter.
View Recipe