Yield: Serves 4 to 6
Ingredients
4 baking potatoes (about 2 pounds or 1 kg)
2 tablespoons (30 mL) or so of vegetable oil
2 tablespoons (30 mL) or so of Chef Michael's Spicy Spice rub
Procedure
Preheat your oven to 400ºF (200ºC). Turn on your convection fan if you have one. Line a baking pan with a silicone baking mat or parchment paper.
Cut each unpeeled potato into 8 to 10 wedges. Pile them into a large bowl, splash in the oil and sprinkle in the Spicy Spice spice rub. Toss the potatoes until every piece is lightly coated with oil and flavour.
Spread the potatoes out in the baking pan in a single layer. Roast, flipping once half way through, until golden brown on both sides and tender on the inside, 30 to 45 minutes.
Serve and share!
© Chef Michael Smith
3 years ago
This time-honoured meal-in-a-pan is a wonderfully tasty way to show off your favourite potatoes any time of the day. Toss in some crisp bacon, crack in a few eggs and you're ready to fill Half Your Plate with breakfast, lunch or dinner. Next level? For a full plate of flavour just top with a few handfuls of your favourite simple salad!
View Recipe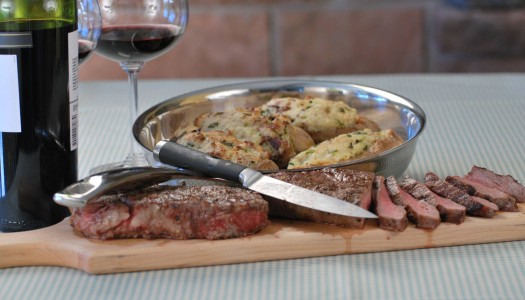 7 years ago
The only thing better than a grilled NY steak, is a grilled NY steak sitting next to a twice baked potato. Especially when its' oozing with Boursin cheese, bacon and sharp horseradish! Did I mention the bacon?
View Recipe