Yield: Serves 4 to 6
Ingredients
4 baking potatoes (about 2 pounds or 1 kg)
2 tablespoons (30 mL) or so of vegetable oil
2 tablespoons (30 mL) or so of Chef Michael's Spicy Spice rub
Procedure
Preheat your oven to 400ºF (200ºC). Turn on your convection fan if you have one. Line a baking pan with a silicone baking mat or parchment paper.
Cut each unpeeled potato into 8 to 10 wedges. Pile them into a large bowl, splash in the oil and sprinkle in the Spicy Spice spice rub. Toss the potatoes until every piece is lightly coated with oil and flavour.
Spread the potatoes out in the baking pan in a single layer. Roast, flipping once half way through, until golden brown on both sides and tender on the inside, 30 to 45 minutes.
Serve and share!
© Chef Michael Smith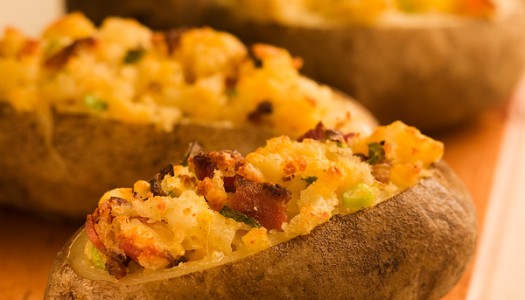 7 years ago
A baked stuffed potato is a thing of beauty. It's the perfect blend of all your favourite potato topping flavours mixed together in an easy-to-make, easy-to-serve, all-in-one package.
View Recipe
2 years ago
Sweet potatoes are a superfood. They've earned this title by being so packed with nutrients, ounce for ounce, that they're just plain nutritionally dense. Quite simply, they're one of the single healthiest foods you can bring to your table. Tasty and easy too. Especially with the bright flavours of curry and ease of canned chickpeas. For this recipe simply toss everything together, toss into the oven, then sit back and wait for the compliments!
View Recipe