Yield: Dinner for 4-6
Ingredients
1 splash of olive oil
2 chicken breasts, skin removed
2 whole Italian sausages
10 whole peeled garlic cloves
1 28 oz can whole tomatoes
2 cups arborio rice
3 cups chicken stock
1 cup red or white wine
3 whole bay leaves
1 sprig fresh rosemary
1 whole red pepper
1 lbs shrimp
2 onions, peeled and chopped
Procedure
Heat a large flat sauté pan or traditional paella pan. Add a splash of oil and begin to brown the chicken and sausages, that have been cut in large chunks. Once they have browned set them aside on a plate. Add the onions to the hot pan and a small splash of oil, sauté until golden. Add the garlic and stir for a few moments. Add tomatoes, breaking them up with a wooden spoon. Add rice, stock, wine, bay leaves, rosemary, red pepper, the reserved meat and the shrimp. Bring to a simmer and cook over medium heat until the liquid has absorbed and the rice is tender, about thirty minutes.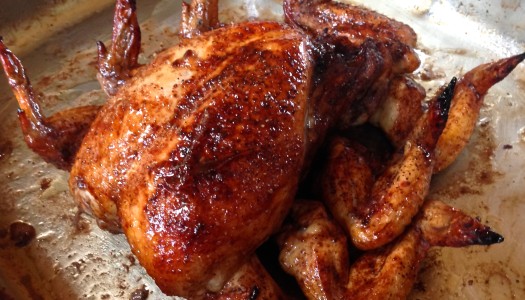 4 years ago
Thrills and chills will abound when you present this chicken to your little ghouls, ghosts and goblins. You'll feel like Dr. Frankenstein putting together your very own monstrous creation, and you'll feel good fuelling your family for an evening of trick-or-treating fun with this simple roasted spider, I mean chicken.
To turn this into a full meal deal, you can roast the chicken over a bed of root vegetables. Cubes of potatoes or carrots, thick slices of onions or whole cloves of garlic are all fair game. They'll soak up the tasty juices that drip off the chicken and give you a complete meal in one pan.
View Recipe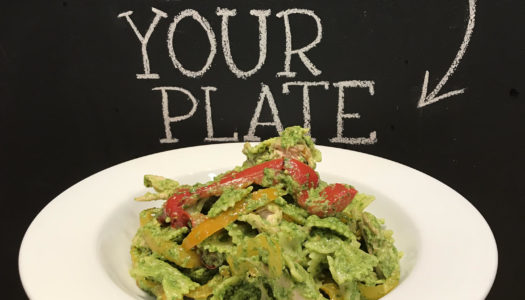 9 months ago
Running out of time to cook vegetables? You can make this delicious dish in the time it takes you to boil water and cook pasta. You just need a few delicious timesavers. Tricks like a simple pesto built on the snappy flavour of arugula or the convenience of a store-bought rotisserie chicken. And it doesn't take long to melt bell peppers. Save time and fill Half Your Plate with vegetables!
View Recipe