Sometimes what you don't know can help you, especially when it comes to getting vegetables on the table. Kids will always eat pasta with tomato sauce but they won't always eat their vegetables—so it can help to magically, mysteriously hide them in the sauce. This is the sort of sauce that you may end up making on a regular basis, so it's worth investing in an immersion blender. It really speeds up the works.
Yield: Serves 4
Ingredients
2 tablespoons olive oil
2 onions, peeled and chopped
4 cloves garlic, minced
1 28 ounce can whole tomatoes
a sprinkle or two sea salt and freshly ground pepper
1 teaspoon dried oregano
2 carrots, peeled and shredded
1 bell pepper, any color, chopped
1 zucchini, shredded
few handfuls baby spinach
Procedure
Heat the oil in a saucepan with the onions and garlic. Sauté them until they begin to soften and caramelize. Pour in the tomatoes, toss in the salt and pepper, oregano, carrots, bell pepper and zucchini. Simmer for 20 minutes or so.
Stir in the spinach and continue simmering briefly as it wilts and heats through.
Purée the sauce with an immersion blender directly in the pot to minimize mess or with your food processor or blender. Reheat as needed, then cross your fingers and serve with your family's favourite pasta.
Variation
Just about any vegetable can be simmered until soft and then puréed into this sauce. Green vegetables will darken the colour a bit and might not impress some critics. Broccoli, fennel, even sweet potato can be grated in. For green-loving eaters, the baby spinach leaves may be brought out of hiding, kept whole and simply tossed with the hot sauce and the freshly cooked pasta. Instead of whole canned tomatoes (which are only cooked in the can), you may use the less-flavourful puréed, crushed or diced canned tomatoes (which are all cooked out of the can first and then a second time in the can).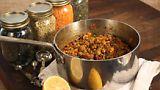 3 years ago
This is one of my favourite side dishes because bacon and lentils are perfect together. The rich meatiness of bacon easily complements the earthy hearty flavours of lentils. Try making this dish once and it will instantly become one of your favourites too! View Recipe
2 months ago
Thrills and chills will abound when you present this chicken to your little ghouls, ghosts and goblins. You'll feel like Dr. Frankenstein putting together your very own monstrous creation, and you'll feel good fuelling your family for an evening of trick-or-treating fun with this simple roasted spider, I mean chicken.
To turn this into a full meal deal, you can roast the chicken over a bed of root vegetables. Cubes of potatoes or carrots, thick slices of onions or whole cloves of garlic are all fair game. They'll soak up the tasty juices that drip off the chicken and give you a complete meal in one pan.
View Recipe