Yield: Makes 4-6 servings
Ingredients
1 whole spaghetti squash
1 cup pesto
1 cup chopped sun dried tomatoes
1/4 cup chopped parsley
2 tbsp balsamic vinegar
salt and pepper to taste
Procedure
Preheat oven to 400 degrees.
Place squash onto a baking sheet and pierce with a paring knife. Roast it for 45 minutes, until it is very soft. When it's cool enough to handle, cut it in half and scoop out the spaghetti-like flesh. Place in a large bowl and add the pesto, sun dried tomatoes, parsley, vinegar and olive oil. Toss well and season with salt and pepper.
2 years ago
When I toss romaine hearts into my shopping cart, chances are I'm heading home to make my family's favourite salad. Every cook should know the joy of crafting a true Caesar salad while avoiding the also-ran dressings at the supermarket that never quite measure up to the real thing. Over time we've experimented with lots of additional flavours in this salad but, more often than not, I toss in lots of fresh basil leaves and brightly flavoured cherry tomatoes. What a great way to fill Half Your Plate!
View Recipe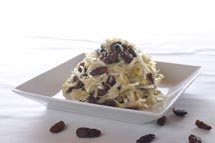 8 years ago
Belgian Endive is a vegetable that's often overlooked in the produce section. Its crisp texture and balanced sweet and bitter flavours make it a great choice for any salad.
View Recipe