There's nothing more satisfying than a bowl full of spaghetti and meatballs and my gold standard tomato sauce. Every cook has an all-purpose tomato sauce up his or her sleeve, a perfect last-minute pasta sauce that's just as good served without meatballs.
Yield: Serves 4 - 6
Ingredients
for the simple tomato sauce:
A splash olive oil
1 large onion, minced
1 whole head garlic cloves, peeled
1 28 ounce can whole tomatoes
1 teaspoon dried oregano
1 bay leaf
a sprinkle or two sea salt and freshly ground pepper
for the meatballs:
1/2 cup breadcrumbs
1/2 cup milk
1 pound ground beef
1 onion, peeled and grated
2 cloves garlic, finely minced
1/2 cup grated Parmesan cheese
1 egg
a bunch chopped parsley
1/2 teaspoon ground nutmeg
1 tablespoon dried oregano
a sprinkle or two sea salt and freshly ground pepper
a few splashes olive oil
spaghetti
Procedure
Make the tomato sauce first so it will be ready when you need it. Begin by splashing some olive oil into a small saucepan over medium-high heat. Add the onion and garlic and sauté until they just begin to turn golden brown, about 5 minutes. Add the tomatoes, oregano, bay leaf and salt and pepper and bring to the simmer. Continue simmering for 15 minutes or so.
Purée the sauce with an immersion blender, or, for a more rustic texture, mash the tomatoes with the back of a spoon.
Meanwhile, make the meatballs. Toss the breadcrumbs into a small bowl and pour the milk over them. Stir to combine and set the mixture aside until the crumbs have absorbed all the milk. Because the key to a perfect meatball is to keep it moist, the breadcrumbs will help absorb and hold onto the moisture.
Place the ground beef into a large mixing bowl and add the onion, garlic, Parmesan and egg. Add the breadcrumb mixture and parsley. Season with nutmeg, oregano and salt and pepper. Mix well with your hands and form 12 meatballs.
Preheat a large, heavy skillet over medium-high heat. When it's hot, add a splash of olive oil, enough to cover the bottom with a thin film. Carefully add the meatballs. Patiently sear them, turning them until they are browned well on all sides. Drain off any excess fat. Add the simple tomato sauce, cover the pan, turn down the heat and simmer until the meatballs are cooked through, about 15 minutes.
Meanwhile, cook a batch of spaghetti in lots of boiling salted water. Drain without rinsing, and serve with meatballs overtop.
Variation
There are lots of secret ingredients, like the nutmeg or oregano, that you can add to your meatballs to add personalized flavour. Try a spoonful of dried thyme, Worcestershire sauce or soy sauce.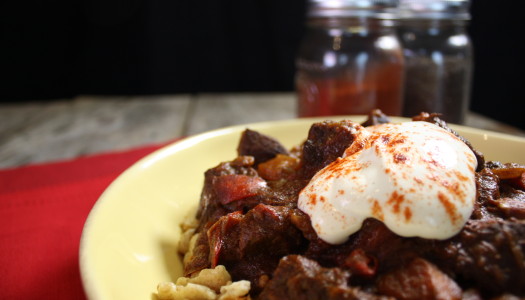 3 years ago
This is one of the great beef stews of the world. It's a uniquely Hungarian dish that's half way between a soup and a stew. While in Hungary, I learned a couple of things. First, that every cook has a different version of this recipe and second, that everyone believes their version is the most authentic. So to me, that means all versions are authentic as long as they contain Hungarian flavours.
This recipe is dedicated to the memory of Ann Szemba, my Hungarian friend who traveled with me to Hungary and taught me this dish.
View Recipe
7 years ago
Nothing beats an old school smash burger, a ball of freshly ground beef grilled and flattened into crispy seared perfection. Top with a salad bar of classics and spoon on your own secret sauce and you'll have an instant classic!
View Recipe