This chili is packed with so much bright Southwestern flavour that you'll never notice it doesn't include meat, but you will notice how quickly everyone empties their bowl!
Yield: Serves 8
Ingredients
2 tablespoons any vegetable oil
2 large onions, chopped
1 large carrot, chopped
1 red bell pepper, chopped
1 green bell pepper, chopped
4 cloves garlic, minced
1 chipotle pepper, packed in adobo sauce
1 tablespoon chili powder
1 tablespoon ground cumin
1 tablespoon dried oregano
1- 28 ounce can whole tomatoes
2- 16 ounce cans black beans, drained and rinsed
2 cups frozen corn
a sprinkle or two sea salt
4 green onions, thinly sliced
a bunch of chopped cilantro
Procedure
Splash the oil into a large saucepan over medium-high heat. Add the onions, carrot, bell peppers and garlic. Sauté until the onions are golden and the vegetables have softened, about 10 minutes.
Add the chipotle pepper, chili powder, cumin and oregano. Continue cooking, stirring constantly for a few minutes longer.
Add the tomatoes, black beans, corn and salt and bring everything to a boil. Reduce the heat so it's just high enough to maintain a simmer. Continue cooking without a lid, stirring frequently, until the flavours are blended and the chili thickens, about 30 minutes.
Taste and add some more salt if you like. Just before serving, stir in the green onions and cilantro.
Variation
Chipotle chili peppers in adobo sauce are smoked jalapeño peppers packed in a highly flavourful tomato-vinegar sauce. If you don't have any chipotles, you may easily substitute 1 or 2 jalapeños. Try topping each bowl with some grated cheddar cheese.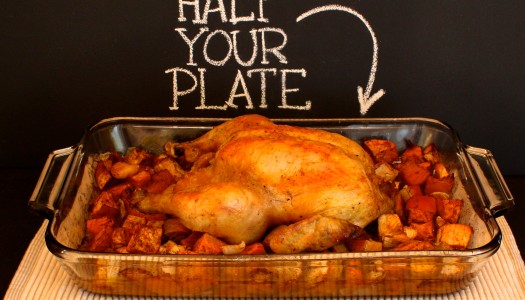 3 years ago
There are as many ways to roast a chicken as there are cooks. This basic method is my favourite. Roasting the chicken perched on top of a thick bed of vegetables not only helps you prepare an entire meal at once but also guarantees that not a drop of flavour is lost. You can also skip all the normal laborious of slicing by simply shredding the meat into the works and tossing together a pan stew of sorts!
View Recipe
8 years ago
In many Italian restaurants the menu term "Tuscan Beef" refers to a particular style of serving beef that is always dramatically finished at the table. An extra thick slab of premium beeflarge enough to serve at least four peopleis slowly roasted on a grill and presented to the table with a classic group of ingredients: arugula leaves, extra virgin olive oil, lemon zest and juice, shaved Parmigiano Reggiano cheese, sea salt and freshly cracked peppercorns. The meat is thinly sliced and draped over a salad of sorts. The results are authentically Italian, spectacularly delicious and a great way to satisfy your primal beef craving and show off at your next dinner party.
View Recipe