This chili is packed with so much bright Southwestern flavour that you'll never notice it doesn't include meat, but you will notice how quickly everyone empties their bowl!
Yield: Serves 8
Ingredients
2 tablespoons any vegetable oil
2 large onions, chopped
1 large carrot, chopped
1 red bell pepper, chopped
1 green bell pepper, chopped
4 cloves garlic, minced
1 chipotle pepper, packed in adobo sauce
1 tablespoon chili powder
1 tablespoon ground cumin
1 tablespoon dried oregano
1- 28 ounce can whole tomatoes
2- 16 ounce cans black beans, drained and rinsed
2 cups frozen corn
a sprinkle or two sea salt
4 green onions, thinly sliced
a bunch of chopped cilantro
Procedure
Splash the oil into a large saucepan over medium-high heat. Add the onions, carrot, bell peppers and garlic. Sauté until the onions are golden and the vegetables have softened, about 10 minutes.
Add the chipotle pepper, chili powder, cumin and oregano. Continue cooking, stirring constantly for a few minutes longer.
Add the tomatoes, black beans, corn and salt and bring everything to a boil. Reduce the heat so it's just high enough to maintain a simmer. Continue cooking without a lid, stirring frequently, until the flavours are blended and the chili thickens, about 30 minutes.
Taste and add some more salt if you like. Just before serving, stir in the green onions and cilantro.
Variation
Chipotle chili peppers in adobo sauce are smoked jalapeño peppers packed in a highly flavourful tomato-vinegar sauce. If you don't have any chipotles, you may easily substitute 1 or 2 jalapeños. Try topping each bowl with some grated cheddar cheese.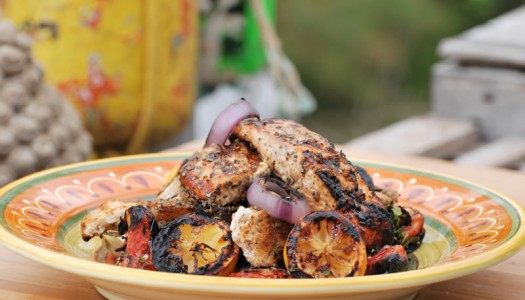 4 years ago
I love salmon. I love its flavor, I love how healthy it is, and I love how easy it is to cook. I especially love it grilled, then tossed into a simple salad. And since the grill is already on, why not grill the whole salad?
View Recipe
3 years ago
When tandoori is on the menu its always a good idea to cut the chicken into small pieces so that it will cook as quickly as possible in a searing hot oven.
View Recipe