Smoked salmon is the ultimate party guest. It's versatile, gets along with lots of other ingredients and always adds a luxurious twist to the proceedings. It's also easy to work with because you're limited only by your imagination.
Yield: 20 pieces
Ingredients
12 to 16 slices smoked salmon
1/2 cup softened cream cheese
1 tablespoon mustard
2 green onions, thinly sliced
20 round whole grain crackers
Procedure
On your work surface, lay out a 18- x 12-inch (46 x 30 cm) piece of plastic wrap. In the centre of the plastic, overlap 8 pieces or so of smoked salmon to form a rectangle about 12 x 8 inches (30 x 20 cm).
Toss the remaining smoked salmon, cream cheese, mustard and green onions into your food processor. Purée until smooth enough to spread an even layer of the mixture on the smoked salmon slices, leaving about 1 inch (2.5 cm) of 1 long edge uncovered.
Starting at the long edge that's covered with the cream cheese mixture, roll the smoked salmon into a tight log. Pick up the plastic wrap and use it to encourage the salmon to roll tightly. The uncovered edge at the top will help form a tight seal. Pinch the plastic wrap on both ends and then roll the log until it tightens and forms a cylinder.
Refrigerate or freeze for several hours to help it firm. When the roll is firm enough to cut, slice it into even rounds. Place each round on a cracker, sprinkle your favourite garnish on top and serve.
Variation
You may try seasoning or garnishing the smoked salmon purée with any one of your favourite fresh herbs. Dill, basil, parsley and even cilantro all work well. A spoonful of pesto is very flavourful too. If you have any of the filling left over, it can easily served as a tasty dip.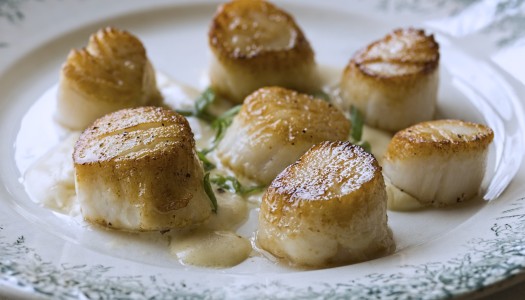 3 years ago
Searing sweet briny scallops to give them a golden brown crispy crust is an essential cooking method for any cook's seafood repertoire. The secret is a hot pan, a high-heat, rapid cooking trick mastered by busy restaurant line cooks. A hot pan not only browns the scallops but allows you to whip up a tasty wine sauce too.
View Recipe
7 years ago
One of the easiest ways to cook any type of fish is to simply simmer it in a flavourful liquid. And if that liquid just happens to taste like a classic cocktail, all the better! This dish tastes like a special occasion, but you can actually put it together in minutes.
View Recipe