Since salmon is a fatty fish, it's often cooked quickly with high, searing heat that gives it a crispy crust. But salmon is just as delicious when it's cooked slowly. Gentle, patient heating gives it a tender, melt-in-your-mouth texture that is truly memorable - especially when it's brightened with a simple honey mustard glaze.
Yield: Serves 4
Ingredients
2 tablespoons (30 mL) of honey
2 tablespoons (30 mL) of your favourite mustard
1 tablespoon (15 mL) of soy sauce
1 teaspoon (5 mL) of your favourite hot sauce
4 centre-cut salmon fillets (each about 6 ounces/175g), skinned and patted dry
Procedure
Preheat your oven to the low, low temperature of 225 °F (110 °C). Lightly oil a roasting pan.
Whisk together the honey, mustard, soy sauce, and hot sauce. Arrange the fillets in the roasting pan skin side down, leaving an inch or two of space in between each one. Spread the glaze evenly over the salmon. Bake until the salmon is cooked through and opaque but still juicy, about 30 minutes.
Serve and share!
© Chef Michael Smith
Variation
The gentle heat of this cooking method gives the salmon an incredibly luscious texture that you may not have enjoyed before. It's a delicate way to show off the fish's natural flavours while revealing a smooth luxurious mouth feel.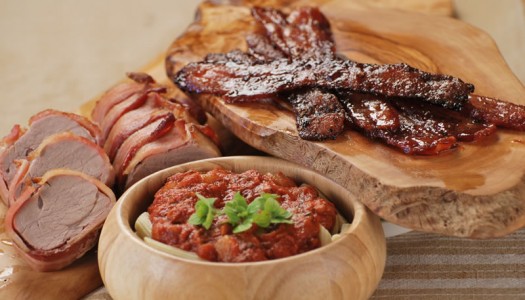 7 years ago
What ingredient gets my heart pounding every time I haul it out, makes everything else taste amazing and is so popular entire websites are devoted to it? Bacon! Here are my three favorite ways to show it off.
View Recipe
7 years ago
Salmon is a regular guest at our table, often grilled with this simple sauce. Its sweet and pungent flavour easily stands up to the richness of the fish. Whenever possible we choose wild Pacific salmon; it's the most sustainable choice available. We're also big fans of farm-raised Atlantic salmon. It's much better for us, and the environment, than beef or meat every day.
View Recipe