Around here we tend to take our lobster pretty seriously. Nothing beats the flavour like a lobster pulled from the sea then cooked in the sea. But if you don't live by the sea, how do you make the sea? Too easy. Just remember for every gallon of water add 1/2 cup of salt.
Yield: Makes 4 lobsters, enough for 2 lobster lovers
Ingredients
For the lobster
2 gallons (8 L) of fresh local water
1 cup (250 mL) of salt
4 bay leaves
4 large lobsters, roughly 1.5 pounds (675 g) each
For the lemon brown butter
1 cup (250 mL) of butter
The juice and zest of 1 lemon
For the tartar sauce
1/2 cup (125 mL) or so of mayonnaise
1/2 cup (125 mL) or so of green relish
Lobster coral from lobsters (if any)
1 tablespoon (15 mL) of fresh tarragon, chopped
The juice and zest of 1 lemon
A pinch of salt
Procedure
First make the lobsters. Grab your largest pot and fill with water and salt at a ratio of 1/2 cup (125 mL) of salt for every gallon (4 L) of water. Throw in a bay leaf for each lobster. Bring the water to a boil over high heat. To remove the rubber bands from the lobsters, cross and firmly grasp the claws in one hand, then ease the elastics off with the other. Commit the lobsters to the water. Bring the water back to a full boil, lower to a simmer and set your timer for 15 minutes. When the timer goes, they're done! Fish out the lobsters with tongs and rest them on their backs to cool.
Next make the lemon brown butter by tossing the butter in a small saucepan over medium heat. Melt and heat until it begins to steam and foam, swirling it gently while watching the colour closely. When it turns golden brown and releases the aroma of toasting nuts, immediately remove it from the heat and whisk in the lemon juice and zest.
 
Finally, make the tartar sauce by whisking the mayonnaise, green relish, lobster coral (if any), tarragon, lemon juice and zest, and salt  together in a small bowl.
 
Shell the lobsters, dip in the butter or tartar sauce, sharing if you have to!
© Chef Michael Smith
3 years ago
Eggs are one of the most versatile ingredients in your kitchen. It lets you get food to your family in a hurry without sacrificing flavour. With carbonara, you harness the power of the egg yolk for a quick pasta fix. You can have this dish ready in the time it takes to boil water and cook pasta. The heat from the freshly cooked pasta will thicken the egg yolk in the sauce at the last moment. You'll be amazed at how something to simple and so speedy can be so tasty.
View Recipe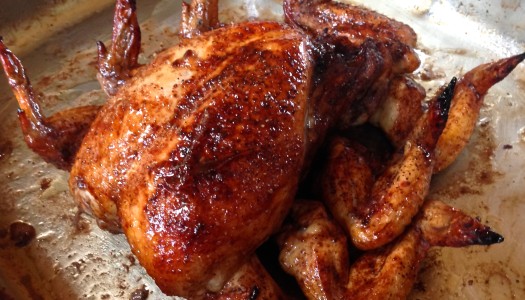 4 years ago
Thrills and chills will abound when you present this chicken to your little ghouls, ghosts and goblins. You'll feel like Dr. Frankenstein putting together your very own monstrous creation, and you'll feel good fuelling your family for an evening of trick-or-treating fun with this simple roasted spider, I mean chicken.
To turn this into a full meal deal, you can roast the chicken over a bed of root vegetables. Cubes of potatoes or carrots, thick slices of onions or whole cloves of garlic are all fair game. They'll soak up the tasty juices that drip off the chicken and give you a complete meal in one pan.
View Recipe