How to Create and Craft your own Tasty Salads
There are many, many ways to serve up healthy vegetables but perhaps none as easy or versatile as a classic salad. Here's how to transform a few simple ingredients into a memorable salad that will easily fill more than Half Your Plate with homemade goodness!
Yield: Serves 4 to 6 with leftovers
Ingredients

For the salad greens base
A handful of any mixed or baby greens for everyone Lots of fresh herb leaves, basil, dill, mint or parsley Shredded carrots or red cabbage
Your favourite tomatoes
Cauliflower or broccoli florets
Thinly sliced radishes, onions or cucumbers

For the salad dressing
1/2 cup of your best olive oil or any vegetable oil
1/4 cup or so of any vinegar, white, red, cider, balsamic, sherry, rice, etc. 1/4 cup of maple syrup, honey, jam, jelly or marmalade
1 heaping spoonful or more of your favourite mustard
1/2 teaspoon of salt

For tasty toppings
Anything crunchy
1 cup of pumpkin or sunflower seeds 1 cup of your favourite nuts
A few handfuls of croutons
A handful of fresh sprouts
Canned chickpeas
Fresh berries or sliced tree fruit Dried fruit
Procedure

Fill a festive salad bowl with enough greens and garnishes for everyone. Toss in lots of fresh herb leaves for bright bursts of flavour. Add whatever vegetables you have on hand. Cut or prep them any way you care to. The sky really is the limit!

Craft your dressing. Loosely measure your choice of ingredients into a mason jar or small mixing bowl. Shake or whisk the works together until smooth. The mustard will help the oil and vinegar combine smoothly.

Add about an ounce (2 tablespoons) or so of dressing per person to the greens. Lightly toss the works until thoroughly combined. Finish with your choice of toppings. Gather your family and friends, serve and share!
Variation

A salad recipe is really more an idea than a set of precise steps. You don't need to worry about exact measures and you have a multitude of options to fill your bowl with goodness. Experiment, try new flavours. Tangy arugula? Hearty baby kale? Sweet baby spinach? All those different lettuces? All awesome and worth a try!
3 years ago
Leeks are the easiest-to-get-along-with members of the onion family. They're deliciously sweet, mildly pungent and simple to prepare. In this recipe they're paired with apples and thyme. They easily fill Half Your Plate with flavour so you can fill the other half with any simple pork, chicken or fish dish!
View Recipe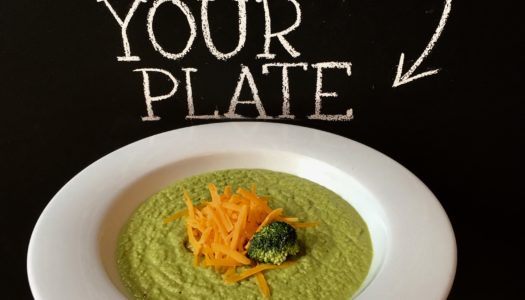 2 years ago
There's nothing quite like a steaming hot soup bowl brimming with intense vegetable goodness. But not a fan of pale promises? Vegetable soup that's more filler than flavour? No worries. You can fill more than Half Your Plate with true broccoli flavour by following this super simple recipe.
As with any simple soup recipe a few easy options are included too:
>Bacon and cheddar for even deeper flavour that's guaranteed to satisfy any picky veggie-averse eaters.
>Your choice of liquid so you can control how rich the results are.
>How to make a pure vegetarian version.
View Recipe