Parsnips are a root vegetable, the way a plant stores sunshine as sugar. They keep well which makes them a traditional winter vegetable. Their sweet earthy flavour and firm texture means they're great for slow cooking, especially when they absorb the flavours of a delicious glaze along the way. Parsnips are a great way to fill Half Your Plate with root vegetable goodness.
Yield: Serves 4 to 6 with leftovers
Ingredients
2 lbs. of parsnips, peeled like a carrot, root trimmed
2 tablespoons of melted butter or olive oil
2 tablespoons of honey
2 tablespoons of water
1 tablespoon of minced fresh rosemary (2 sprigs or so)
1 teaspoon of vanilla
1 teaspoon of your favourite hot sauce
1/2 teaspoon of sea salt
Procedure
Prepare and preheat your oven to 350°. Turn on your convection fan if you have one.
Whisk together the butter, honey, water, rosemary, vanilla, hot sauce and salt. Neatly arrange the parsnips in a 12" cast iron skillet or baking dish. Pour the glaze evenly over the top of the works. Turn the parsnips until they're evenly coated. Cover and seal tightly with foil.
Bake for 1 hour. Uncover the works and rotate the parsnips through the sauce yet again, until their bottoms face up. Continue baking until they're lightly browned and delicious, 15 minutes or so. Serve and share with the pan syrup drizzled over the top.
Variation
Like so many vegetables parsnips are often sliced, diced and pureed into oblivion. In this dish though, they're the star of the show. Leaving them whole shows off their natural form. It's also easier for the cook!
3 years ago
You can enjoy the bright red flavours and intense nutritional density of these two harvest ingredients brought together in one distinctive dish. In this recipe they serve both as a delicious side dish and a tasty condiment. Red Cabbage has an amazing ability to absorb other flavours while retaining its texture. Cranberry and the traditional flavours of cranberry sauce make this the perfect side dish for holiday turkey or everyday chicken or pork!
View Recipe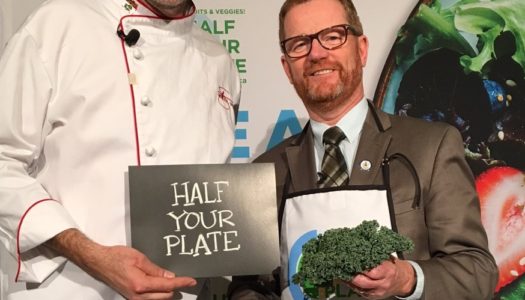 2 years ago
One of the best ways to fill Half Your Plate (and all of your soup bowl) is with a simple puréed soup. They're a time-honoured and super-simple way to get a whole lot of vegetable flavour on the table in a hurry – maybe even hide vegetables from finicky eaters. This one was custom created by Health Minister Terry Lake with Chef Michael Smith's coaching!
View Recipe