One of my all time favourite ways to enjoy ripe tomatoes is in a chilly bowl of puréed gazpacho soup. Normally raw ripe tomatoes are the base for the soup but since the local tomato season is so fleeting you can concentrate and brighten their flavours any time of the year by roasting them first!
Yield: Serves 6 to 8 people
Ingredients
For the gazpacho
3 pounds (1.36 kg) of vine-ripened tomatoes, quartered
1 red onion, diced
6 cloves of garlic, thinly sliced
1/4 cup (60 mL) of extra virgin olive oil
1/4 teaspoon (1 mL) of salt
The zest and juice of 1 lemon
The zest and juice of 1 orange
1/4 teaspoon (1 mL) of your favourite hot sauce
For the garnish
1 cucumber, small diced
1 red bell pepper, small diced
1/2 cup (125 mL) of unsalted roasted almonds
1 bunch of basil, roughly torn into shreds
Your very best extra virgin olive oil
Procedure
Preheat your oven to 400 °F (200 °C). Turn on your convection fan if you have one.
Toss together the tomatoes, red onion, garlic, olive oil and salt. Pile the works into a 13- x 9-inch (3.5 L) baking or roasting pan. Roast until the onions and tomatoes have lightly browned and shrunken, concentrating their flavours, about 1 hour. Let cool for a few minutes.
Transfer the works to a blender or food processor. Add the citrus zest and juice along with the hot sauce and purée until very smooth. Cover the gazpacho tightly and refrigerate until cold. An overnight rest will allow the flavours and aromas to emerge and brighten fully.
Toss together the cucumber, red bell pepper, almonds and basil, and reserve. To serve, pour the gazpacho into the soup bowls. Mound a small pile of the crunchy garnish in the centre of each bowl. Drizzle a splash of the olive oil over the works. Serve and share!
© Chef Michael Smith – #HalfYourPlate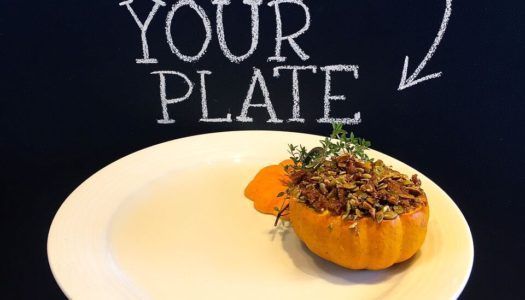 2 years ago
Pumpkins are not just for carving into pretty faces they're vegetables, so you can eat them too! As members of the squash family they're deliciously versatile, inexpensive and packed with nutrients. Your best choice for cooking though are not the various jack-o-lantern varieties, they tend to be too big and bland. Instead, try this simple yet stunning idea with a few mini decorative pumpkins during harvest. With all this seasonal flavour they're a great way to fill Half Your Plate!
View Recipe
2 years ago
When I toss romaine hearts into my shopping cart, chances are I'm heading home to make my family's favourite salad. Every cook should know the joy of crafting a true Caesar salad while avoiding the also-ran dressings at the supermarket that never quite measure up to the real thing. Over time we've experimented with lots of additional flavours in this salad but, more often than not, I toss in lots of fresh basil leaves and brightly flavoured cherry tomatoes. What a great way to fill Half Your Plate!
View Recipe