One of the best ways to add flavour to any ingredient is to roast it, especially the humble potato. That simple twist elevates this classic salad into something memorable. Add in the sharp flavours of capers, mustard and vinegar, and you'll have a new family classic.
Yield: Serves 4
Ingredients
4 or 5 thick slices bacon
20 baby red potatoes
a sprinkle or two sea salt and freshly ground pepper
a handful flat leaf parsley leaves
a few pickles, diced small
1 tablespoon grainy mustard
1 tablespoon mayonnaise
a splash red wine vinegar
Procedure
Stack the bacon slices on top of each other, then cut them into thin pieces. Toss them into a large sauté pan, add a splash of water and begin heating the works over medium-high heat. Strain and reserve the fat.
Meanwhile, preheat your oven to 400 °F (200 °C).
Cut the baby potatoes in half. Toss them with the bacon fat and salt and pepper and roast them until they're golden brown, about 40 minutes. Cool to room temperature.
Toss the potatoes with the remaining ingredients then serve right away or save for later. This salad is great when it's made the night before a party.
By adding water to the raw bacon, you're less likely to burn it as it gradually releases its fat and browns evenly. When the water evaporates, and the bacon begins to brown, turn the heat down a notch and continue cooking until it's all nice and crisp.
Variation
For a special-occasion twist, try using capers instead of pickles, or you can skip the pickles and use a few spoonfuls of pickled green relish instead. You can also try using a big handful of fresh dill fronds along with the parsley leaves. While baby red potatoes are my favourite, you may also use any other type of potato to make this salad.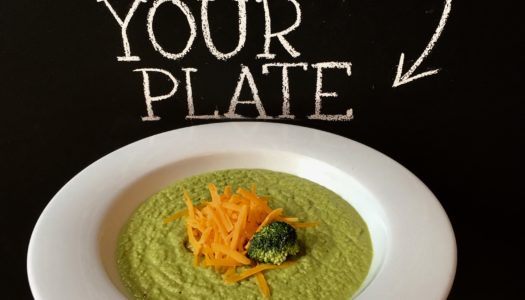 2 years ago
There's nothing quite like a steaming hot soup bowl brimming with intense vegetable goodness. But not a fan of pale promises? Vegetable soup that's more filler than flavour? No worries. You can fill more than Half Your Plate with true broccoli flavour by following this super simple recipe.
As with any simple soup recipe a few easy options are included too:
>Bacon and cheddar for even deeper flavour that's guaranteed to satisfy any picky veggie-averse eaters.
>Your choice of liquid so you can control how rich the results are.
>How to make a pure vegetarian version.
View Recipe