Thrills and chills will abound when you present this chicken to your little ghouls, ghosts and goblins. You'll feel like Dr. Frankenstein putting together your very own monstrous creation, and you'll feel good fuelling your family for an evening of trick-or-treating fun with this simple roasted spider, I mean chicken.
To turn this into a full meal deal, you can roast the chicken over a bed of root vegetables. Cubes of potatoes or carrots, thick slices of onions or whole cloves of garlic are all fair game. They'll soak up the tasty juices that drip off the chicken and give you a complete meal in one pan.
Yield: Makes 1 creepy crawly chicken
Ingredients
1 roasting chicken, about 4 lbs
6 more whole chicken wings
About 1/2 cup of your favourite spice rub
a generous sprinkling of salt and lots of freshly ground pepper
Procedure
Prepare and preheat your oven to 350 °F (180 °C). Turn on your convection fan if you have one.
Remove the legs from the chicken and reserve them for another use. You can freeze them for another meal, grill them or just make some broth by simmering them in water.
Rub the chicken and the extra chicken wings with your spice rub and salt and pepper if they're not included in the spice blend. Place the chicken in a large roasting pan and spread out the wings. Tuck the other wings under the chicken, creating "legs" for the "spider". Unfold and arrange them to maximize the creepiness factor.
Roast the chicken until a meat thermometer inserted in the thickest part of one of the breast reads 165 °F, about 1 hour.
Serve and share with a scream or two!
© Chef Michael Smith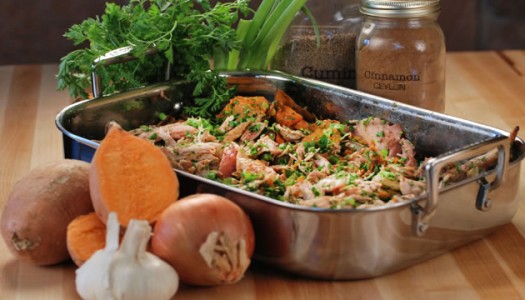 7 years ago
Nothing is more comforting, more home style, than a simple roast chicken dinner. Especially when the vegetables are cooked and seasoned at the same time and there's only one pot to clean!
View Recipe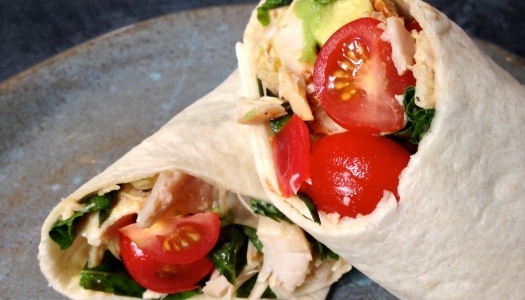 4 years ago
Is your family in the sandwich business? A soft tortilla wrap is just as easy a sandwich start as a slice of bread and a great way to pack a lunchbox. If you want to make it even easier, let your grocer do the heavy lifting and just toss a rotisserie chicken into your cart!
View Recipe