I love how my local grocery has chickens spinning and roasting, ready to take home and serve up. But don't stop there. You can stretch a rotisserie chicken into a hearty pot full of delicious soup for a crowd!
Yield: Serves 4 to 6 or more
Ingredients
1 store-bought cooked rotisserie chicken
2 large onions, chopped
2 carrots peeled and chopped
2 stalks celery, chopped
8 cups water
2 cups egg noodles
1 tablespoon or so of summer savory, sage or thyme
1 cup or so frozen corn
1 cup or so frozen peas
sprinkle or two of salt and lots of freshly ground pepper
Procedure
Dissect your chicken, separating the meat from the bones. Reserve the meat. Put the bones in a stockpot, cover with water and a tight lid then simmer one hour. Strain, discard the bones and return the broth to the stockpot. Toss in onion, carrot, celery, herb, salt and pepper. Simmer with a tight-fitting lid until the vegetables are barely cooked, about 20 minutes.
Add the egg noodles and cook until almost tender. Add the peas, corn and reserved chicken and simmer to heat through, about 5 minutes or so. Season to your taste with salt and pepper. Your pot of homemade, hearty goodness is ready for the ladle and ready for sharing.
Chef Michael's Kitchen
© Chef Michael Smith
Variation
Freestyle Twist: Any number of dried herbs will bring a flavor twist to your hearty soup. Thyme, rosemary, sage, tarragon or oregano- we all have our favorite. And feel free to toss in some chopped green onion or freshly chopped parsley for a little extra color and taste.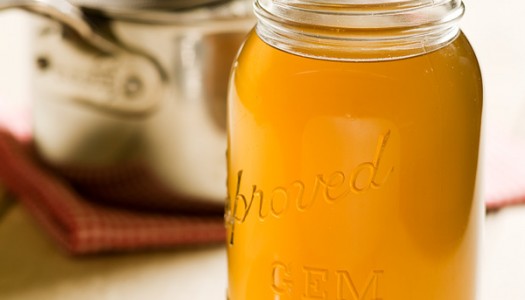 7 years ago
A pot full of simmering chicken broth is the essence of home cooking: true flavour brimming with hearty goodness, ready to launch a thousand other dishes. Try making a batch, dividing it into easily used amounts and keeping them in your freezer, ready for whatever idea comes along. You can use any chicken, but a stewing hen will have the most flavour.
View Recipe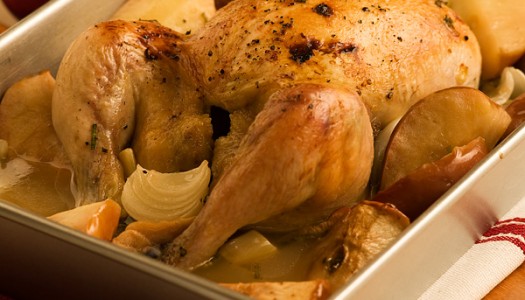 7 years ago
A perfectly roasted chicken is the essence of home cooking, especially when the chicken and its fixings are raised responsibly on a nearby farm. In the fall my family really enjoys this aromatic dish. As the chicken roasts, the apples "melt" and form a tasty rustic pan stew that is perfect tossed with the roast chicken. This is a very easy way to cook and serve a chicken.
View Recipe