These deliciously addictive granola bars come with a fruity punch of powerful raspberries. They're just the sort of treat to pack into your kids lunch. They'll love the flavour and you'll love knowing that made them yourself! Best of all? You wont believe how easy these are to make! #HalfYourPlate
Yield: 12-20 bars
Ingredients
3 cups of old fashioned oats
3 cups of whole-wheat flour
2 cups of sliced almonds, shredded coconut, pumpkin seeds, sunflower seeds or walnut pieces
1 tablespoon of ground cinnamon or nutmeg
1 teaspoon of baking soda
1 teaspoon of salt
1 cup of vegetable oil
1 1/2 cup of honey
1 tablespoon of pure vanilla extract
1 cup of raspberry jam or jelly
2 six-ounce packages of fresh raspberries
Procedure
Prepare and preheat your oven to 350°. Turn on your convection fan if you have one. Line a 9"' by 13" baking pan with foil and lightly oil the works.
Whisk together the oats, flour, nuts or seeds, cinnamon, baking soda and salt. In a second bowl whisk together the oil, honey and vanilla until smoothly combined. Add the wet to the dry and with your hands, vigorously stir and knead the works together until thoroughly combined.
Firmly press a little less than half of the mixture into the baking pan. Spread the jam evenly over the base. If necessary microwave the jam until it is spreadable. Evenly sprinkle on the raspberries. Top with the remaining dry mixture, a handful or so at a time, filling in the gaps around and over the berries. Firmly press until evenly thick.
Bake until golden brown and bubbly, about 30 minutes. Refrigerate until completely cooled. Carefully invert onto a cutting board. Peel away the foil and cut into evenly sized squares or bars. Refrigerate in an airtight container or individual packages for up to a week. Enjoy!
© Chef Michael Smith – #HalfYourPlate
Variation
To minimize the sticky mess (and for accuracy) measure the oil first than measure the honey in the same cup. You'll find it much easier. | Don't want to wait? You can also enjoy the results as a dessert of sorts warm from the oven.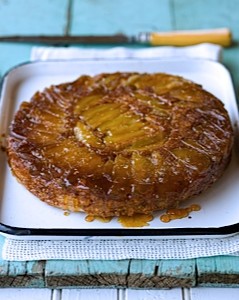 6 years ago
There are few flavours as addictive as caramelized apples, especially as one of the first tastes of the day. This spectacular dish is an A.M. showstopper that's so easy to make you'll impress yourself in your own kitchen before impressing everyone at your table!
View Recipe
7 years ago
French toast for breakfast immediately makes the day special but it's not just a weekend treat. You can bang out a batch any day of the week and jazz it up with an easy stuffing and a crunchy finish.
View Recipe