These quickly pickled cucumbers are half light salad, half bright condiment. You won't believe how easy it is to simply simmer together an aromatic pickling liquid to soak a mess of sliced cucumbers. These tasty pickles are strong enough to top fish, chicken or pork but light enough to be an excellent side salad. You'll love filling Half Your Plate with these big bright flavours!
Yield: SERVES 4 TO 6
Ingredients
Ingredients
1 cup (250 mL) of cider vinegar
1/2 cup (125 mL) of white sugar
1 teaspoon (5 mL) of salt
2 tablespoons (30 mL) of fennel seeds
2 tablespoons (30 mL) of coriander seeds
2 bay leaves
a knob of frozen ginger, an inch or so
2 long English cucumbers, sliced as thinly as possible into rounds
1 large red onion, thinly sliced
2 minced jalapenos
1 bunch of fresh dill, leaves and tender stems finely chopped
Procedure
Bring the vinegar, sugar, salt, fennel seeds, coriander seeds and bay leaves to a full furious boil. Turn off the heat and grate in the ginger with a microplane grater. Toss together the cucumbers, red onions and jalapenos. Pour the steaming hot pickling liquid over the vegetable mixture. Stir in the dill. Serve warm or refrigerate until cool.
You may serve the pickles immediately or if you have the time let them rest. As with all pickles they benefit from extended marinating time. An overnight soak really brightens their flavours. A batch keeps for weeks in your fridge.
© Chef Michael Smith – halfyourplate.ca
Variation
How To Twist
Love tuna fish? You can pop a can and stir directly into the pickles for an interesting side salad. Or make your favourite tuna fish sandwich the way you normally do and top the works with pickles.
Try grating a carrot or two into the mix. For relish-like results try dicing the cucumbers instead of slicing them. That half-cup of sugar? Try using marmalade, mint jelly or honey instead. Spicier? Start adding your favourite hot sauce until you hit your level.
You can pickle lots of other vegetable too. Not just cucumbers. One of my favourites is a thinly sliced bulb of fennel.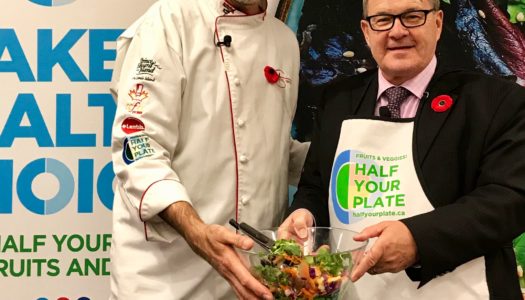 1 year ago
You can fill more than Half Your Plate and create your own salad with this recipe. Chefs know that the art and craft of filling a salad bowl is one of the greatest expressions of the culinary arts. Home cooks love how easy it is to cram the salad bowl with healthy flavours. Everyone enjoys emptying the bowl. You'll love knowing you have plenty of delicious dressing leftover for the next salad and nothing beats impressing yourself in your own kitchen! This one was custom created by Honorable Lawrence MacAulay with Chef Michael Smith's coaching!
View Recipe
2 years ago
One of the best ways to fill Half Your Plate (and all of your soup bowl) is with a simple puréed soup. They're a time-honoured and super-simple way to get a whole lot of vegetable flavour on the table in a hurry – maybe even hide vegetables from finicky eaters. This one was custom created by Agriculture Minister Norm Letnick with Chef Michael Smith's coaching!
View Recipe