Pork Chops are an easy way to get dinner on the table in a hurry and an easy way to show off your saucier skills. The secret? A two step pan roast and an even easier pan sauce!
Yield: Serves 2
Ingredients
2 thick centre-cut pork chops
1 tablespoon any vegetable oil
1 tablespoon Butter
1 cup orange juice
2 tablespoons marmalade
1 teaspoon or so of soy sauce
A knob of unpeeled ginger, grated
2 green onions green onions, chopped
1 tablespoon rice vinegar
A sprinkle or two salt and lots of freshly ground pepper
Procedure
Preheat your oven to 350 °F (175 °C).
Preheat a large saucepan over medium-high heat. Splash in some oil and toss some butter in the center of the oil. Season the pork chops with salt and pepper. When the butter starts to brown, lay in the pork chops. Sear until lightly and evenly browned and delicious looking then flip to cook the other side on low. Reduce your heat to its lowest possible setting, place a lid on the saucepan and allow the chops to finish cooking in your improvised oven. This will take about 5 minutes or so. Rest the chops on a plate covered loosely with foil. Toss it in the warm oven. Close the door, turn off the heat and make the sauce.
Turn the pan heat to high. Pour in the orange juice and spoon in the marmalade. Stir the sauce as it boils and scours the pan of all the browned flavour bits, the concentrated pan juices. The sauce thickens as it reduces. This makes for less sauce but bigger flavor. When the sauce thickens to a smooth consistency, finish by stirring in the soy sauce, ginger, green onions and vinegar. Serve up the warm chops with the sauce, share and enjoy!
Chef Michael's Kitchen
© Chef Michael Smith
Variation
Freestyle Twist: These simple chops can be dressed up by simply twisting the sauce in a variety of ways. Try white wine and mustard, red wine and raspberry jelly or for some zing, apple juice and horseradish.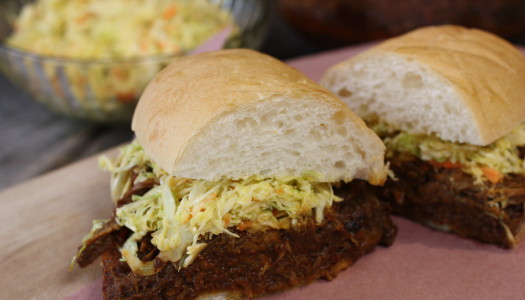 4 years ago
A pulled pork sandwich is a thing of beauty. Tender meat glistening with spicy, smoky flavour piled high on a soft bun with no adornment save for some tangy, crunchy 'slaw. The time-honoured method for making succulent pulled pork requires a smoke pit, a whole hog, and pulling an all nighter.
Luckily there's a much easier way that's just as tasty. This recipe harnesses the power of slow cooker braising to duplicate the BBQ flavours. This much simpler process skips the time and labour intensive process of grilling and smoking, which leaves more time for pulling and sandwiching. There won't be any smoke of course, but with these flavours no one will even notice.
View Recipe
7 years ago
Few foods are as easy or as fun as pizza and it's especially satisfying if you grill it! And who says tomatoes are the only way to make a sauce. Let's wow them with another round red fruit: apples!
View Recipe