French toast for breakfast immediately makes the day special but it's not just a weekend treat. You can bang out a batch any day of the week and jazz it up with an easy stuffing and a crunchy finish.
Yield: 4
Ingredients
8 thick slices whole-grain bread
4 eggs
1 cup milk
2 tablespoons (or so) brown sugar
1 teaspoon (or so) cinnamon
1 tablespoon (or so) vanilla
2 cups oatmeal
1/2 cup peanut butter
1/2 cup favourite jelly
splash oil for grilling
splash butter for grilling
maple syrup for drizzling
Procedure
Preheat a griddle or heavy sauté pan over medium heat.
Whisk the milk, eggs, brown sugar, cinnamon and vanilla together in one bowl. Place the oatmeal in a second bowl. Sandwich the peanut butter and jelly together. Dip the sandwiches in the wet mixture first, drip dry then in the oatmeal to coat.
Splash a bit of oil on your grill and drop some butter in the center. The oil will keep the butter from burning.
Slowly and patiently grill the sandwiches on one side until they're golden brown, about 3 or 4 minutes. Flip. Brown the second side, serve and share while it's still hot. Drizzle a little maple syrup on top to make it ooey, gooey fantastic!
Recipe from Chef Michael's Kitchen
© Chef Michael Smith
Variation
Freestyle Twist: Feel free to mix up the spices or sugars in the milk/egg mixture. Try a little nutmeg, cardamom, cloves or mace and see what your family warms up to. Or substitute honey or maple syrup for the brown sugar.
7 years ago
Forget fancy. Here's a simple way to make a quick tasty omelet for breakfast, lunch or dinner, complete with bacon and cheddar. Don't be scared by the flip, you'll miss a few but quickly get the hang of it!
View Recipe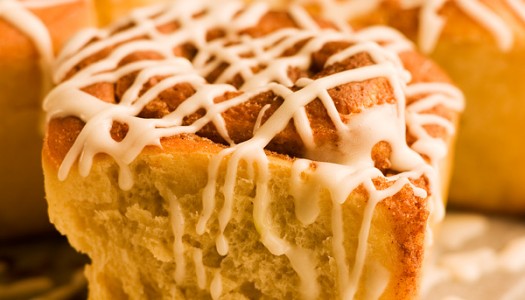 7 years ago
Few things say "Good Morning" better than a batch of warm-from-the-oven cinnamon rolls! You can bake them with speedy baking powder, but an old-school yeast dough always has the best texture and flavour.
View Recipe