Two classic flavours come together in these tasty cookies.
Yield: 6
Ingredients
1 cup Flour
1 tsp salt
1/2 tsp baking soda
1/2 cup creamy peanut butter
1/4 cup butter, melted
1/2 cup brown sugar
1 large egg
1 tsp vanilla
white sugar for rolling
1 jar of your favourite jam, jelly, or marmalade
Procedure
Preheat your oven to 375F.
Whisk the flour, salt and baking soda together. In a separate bowl, whisk together the peanut butter, butter, brown sugar, egg and vanilla. Add the dry ingredients to the wet and stir together until smooth. Using a spoon, form 1-inch balls. Roll each in granulated white sugar then place on a baking tray. Bake for 5 minutes.
Gently push each cookie down with the back of a small spoon, flattening it and forming a small depression in the center. Fill the center with a small spoonful of your favourite jelly. Return to the oven and bake for another 10 minutes or so.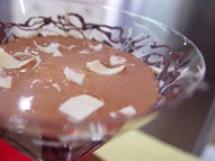 48 years ago
Not all chocolate comes on a plate. How about a chocolate martini!
View Recipe
7 years ago
Commercial chocolate sauces are a pale imitation of the real thing and usually don't include any real chocolate. An old-school batch of real chocolate sauce is easy to make, easy to use and an easy way to saturate any treat with lots of rich, true, chocolate flavour. Try not to eat too much of this sauce straight out of the jar!
View Recipe