Two classic flavours come together in these tasty cookies.
Yield: 6
Ingredients
1 cup Flour
1 tsp salt
1/2 tsp baking soda
1/2 cup creamy peanut butter
1/4 cup butter, melted
1/2 cup brown sugar
1 large egg
1 tsp vanilla
white sugar for rolling
1 jar of your favourite jam, jelly, or marmalade
Procedure
Preheat your oven to 375F.
Whisk the flour, salt and baking soda together. In a separate bowl, whisk together the peanut butter, butter, brown sugar, egg and vanilla. Add the dry ingredients to the wet and stir together until smooth. Using a spoon, form 1-inch balls. Roll each in granulated white sugar then place on a baking tray. Bake for 5 minutes.
Gently push each cookie down with the back of a small spoon, flattening it and forming a small depression in the center. Fill the center with a small spoonful of your favourite jelly. Return to the oven and bake for another 10 minutes or so.
4 years ago
Can you make a butter tart taste like a pumpkin pie? Yes! These tarts evolved from basic butter tarts, but they've come so far that they're really more like little mini pumpkin pies. But does it really matter where they came from? It's where they're heading that counts. In this case, your table!
View Recipe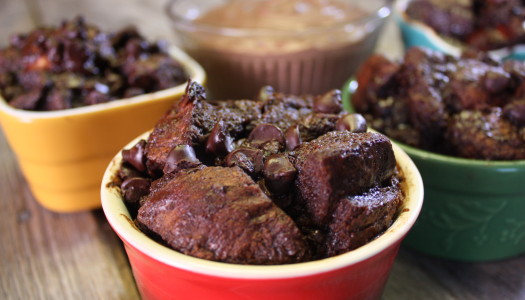 3 years ago
It's fun to try new ideas and it's always fun to freestyle cook. And it's particularly fun to stir every form of chocolate into one bread pudding. I admit sometimes I feel the need to go overboard a little bit and even push some limits, but the kitchen is a really safe place to do that, and a fun place too. Once you know the bread pudding rules, you can break them all day long. Who knows? You might just end up with Five Chocolate Bread Pudding with Chocolate Whipped Cream.
View Recipe